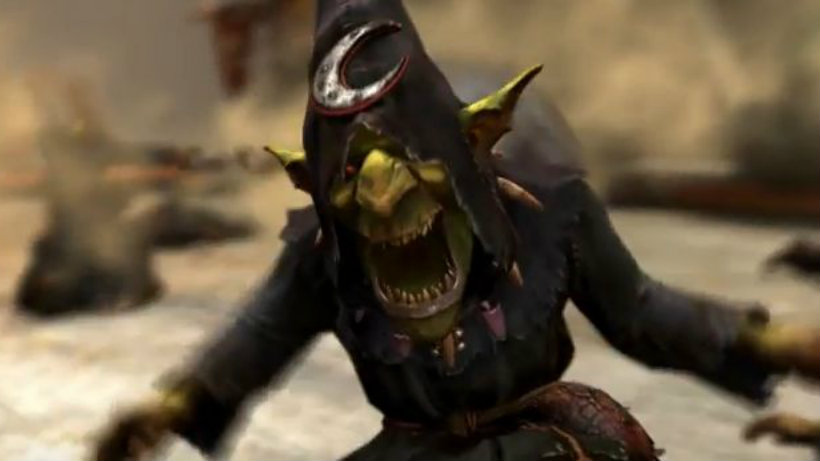 Total War: Warhammer is everything fans of both franchises have been asking for. Sure some factions aren't playable yet, but it's a quality game that combines the lore of Warhammer with the play style of Total War. It also has a pretty tame age rating as usual; you see, Creative Assembly is clever; they release a blood and gore-free game in order to get a nice age rating, but then release paid DLC for those adults who like to see blood and dismemberment in their games. This way, the game can be sold to a wider audience, but those who still want the adult-oriented elements can pay for them. I'm surprised more games having adopted similar approaches – imagine if more games were rated for kids and teens, but adults could pay to add blood, gore, swearing and/or sex.
The new DLC is really rather graphic, but is also features the best name possible. Why stop at calling it blood and gore DLC, when you're in the Warhammer universe? Nope, this is Blood for the Blood God! And here's the leaked video showing it off courtesy of Russia, because in Mother Russia, the dismemberment rides you?
I assume the official announcement will come later today, so no idea yet about the cost of the DLC or when it will launch, but it will certainly make those who enjoy these kinds of animations and blood spatter very happy. Just feels bit like Dexter to me, but should be quite cool for fans.
I really do hope that more companies look into this model. Not all games are suitable for children or teens, or they don't want their parents to see what games are really about, but only because of certain content. If they hid that away behind DLC that parents could buy for when they play after bedtimes, I'm sure it would make everyone a lot happier.
Last Updated: June 30, 2016