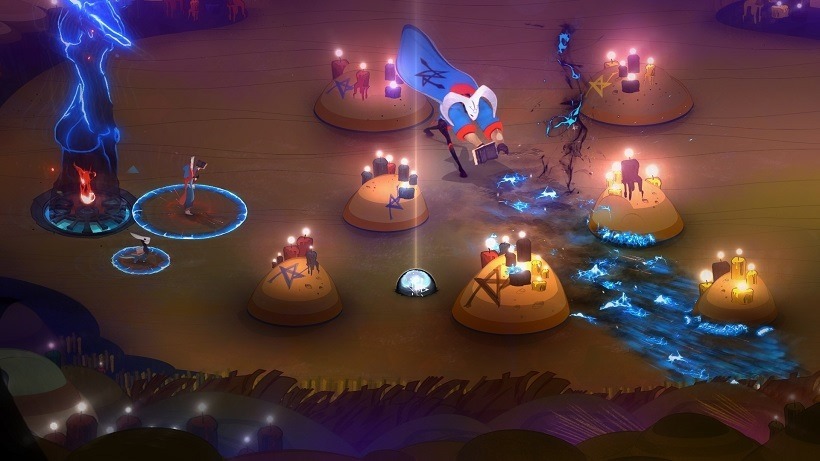 Supergiant Games are one of those studios that have yet to put a wrong foot forward. Bastion was an exceptional action-RPG, while Transistor shook thing up a bit with a clever mix of action and turn-based combat in its own futuristic world. Supergiant likes making different games that stand out from their previous efforts, which is why their latest title, Pyre, already has my undivided attention.
Supergiant describes their new title as a "party-based role-playing game", but it's a little difficult to decipher that from the reveal trailer alone. There's glimpses of some party-based combat with a few characters under your control, but aside from that there's almost nothing to suggest how it plays. And that's not all too surprising, given that the game is only slated to launch sometime next year.
Pyre does, however, retain that signature Supergiant look and feel. It's gorgeous already, with the same type of 2D styling and attention to detail that made both Bastion and Transistor such visual treats. It's only done one better by another soundtrack by the fantastic Darren Korb, who crafted the beautiful melodies of the previous two titles as well.
Pyre itself follows the adventure of a group of masked wanderers, who have essentially found themselves trapped in a mysterious land thanks to their many crimes and transgressions. Together you'll tackle the Rites – a competition of challenges that allows one to escape the endless wandering and return home, free of guilt and accusation. What these Rites are makes up the core mystery of Pyre, and it seems completing them won't be easy.
Supergiant Games haven't disappointed yet, so I'm overwhelmingly excited to learn a lot more about Pyre in the coming months. Its coming to PS4 and PC.
Last Updated: April 20, 2016