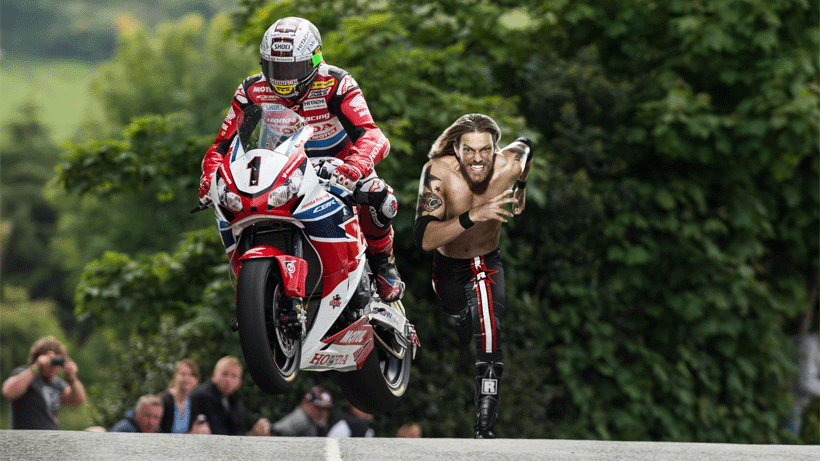 Riding a motorcycle is sort of stupid. You've got half the wheels available to you, a massive exposure to elements that want you dead and the risk of sending a chap driving a VW Golf with go-faster stripes painted on the side into a massive rage for daring to lane-split ahead of him. Stupid…ly awesome stuff. So what's better than actually having a high-end motorcycle to ride around on when the weather is perfect?
Having that same motorcycle on one of the deadliest annual races around, in the International Isle of Man TT (Tourist Trophy) Race. A 109 years of tight corners, narrow roads and possibly a chance to become the 142nd fatality of this legendary road circuit. It's an event that has been suprisingly ignored in recent years, save for a handful of TT games in the PS2 era that captured the spirit of Welsh race.
Well good news! There's an official Isle of Mann game on the way! Bad news, it's being headed up by Bigben Interactive and Kylotonn Games, the same folks responsible for Motorcycle Club, MotoGP 15 and the rally not good WRC 4 and 5 games. Not related to the Knights of Ren. Uuurrrrrgghhhh. According to the press release, Bigben Interactive and Kylotonn will map the entire 37 mile Isle of Mann course, with assistance from the Isle of Man government.
"The partnership between Bigben Interactive and the Isle of Man Government represents an opportunity not only to generate additional commercial income but also to increase the profile of the TT Races and broaden the event's appeal to a wider, younger demographic working alongside a world class partner in the gaming world," said head of software at Bigben Interactive Benoît Clerc in the press release.
For several years now, our team works together with Kylotonn's developers to create and offer the best depictions of some of the most spectacular racing events like the Isle of Man TT races or the World Rally Championship. By creating 1/1 the iconic 37¾ miles of the race, we already know that all the motorbike fans will feel the speed and the excitement of being part of the Isle of Man TT races.
Look, these guys make alright games. Which just doesn't cut it when it comes to motorsports. Previous motorcycle games from the crew are exercises in the humdrum, boring events of one of the most dangerous sports ever allowed. Getting on a digital motorcycle should feel like one wrong gear away from an exhilarating and instant death, not a merry scoot where even a perfect corner fails to elicit anything more emotional than a yawn.
Prove me wrong however, and I'll gladly print these words out and eat them with a liberal splash of Blair's Death Sauce on top. TT Isle of Mann – Ride the Edge, is out next year on current-gen consoles and PC.
Last Updated: April 18, 2016