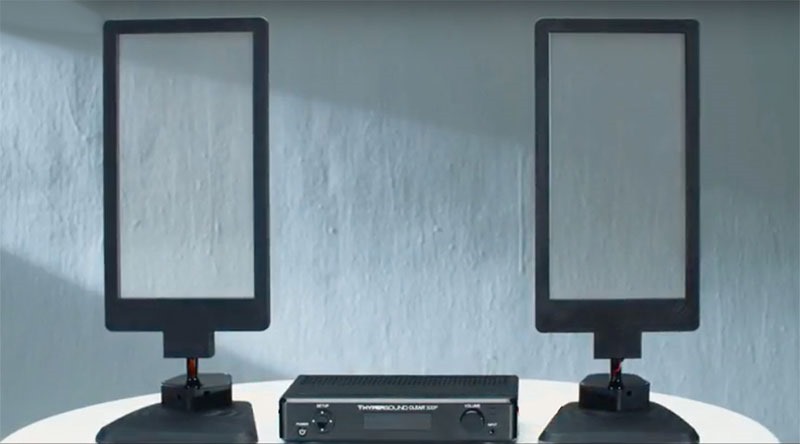 If you ascribe to science-fiction writer Arthur C. Clark's "laws" of prediction, "Any sufficiently advanced technology is indistinguishable from magic." While I'd never want to reduce the hard work of very, very clever people to the arcane, these new speakers from Turtle Beach seem to have been produced using pure wizardry.
Made from sheets of glass, these highly directional speakers produce such focused sound that it sounds more like you're wearing headphones than listening to speakers. On top of that, they won't create much noise to those not looking head on. While they're standalone prototype speakers right now, the plan in the future is to incorporate this technology directly in to TV screens, monitors and laptops screens; places where you'll already find glass.
"The advancements the HyperSound team is making with directional audio are simply amazing – some of the biggest breakthroughs in audio technology to come along in decades," said Juergen Stark, CEO, Turtle Beach Corporation.

"Being able to create highly directional audio using glass opens up many potential opportunities, including integrating into desktop monitors, commercial displays, desktop speakers, and automotive dashboard glass to provide warnings directed specifically at the driver…pretty much anywhere there's glass there's a potential for audio. As we progress the technology, this also opens up licensing possibilities to external parties looking for ways to integrate the latest audio technology into their products. Again, it's still early in development and the applications are simply ideas on the drawing board, but at the same time having HyperSound directional audio working on glass is very exciting and we can't wait to show it publicly for the first time at E3."
This is amazing, and I must have it. We've seen glass speakers before, as well as directional ones – but they've never been combined like this before. If Turtle Beach could make this commercially viable, we could see a genuine revolution in personal audio.
Read more about coaxial speaker cable.
Last Updated: June 14, 2022