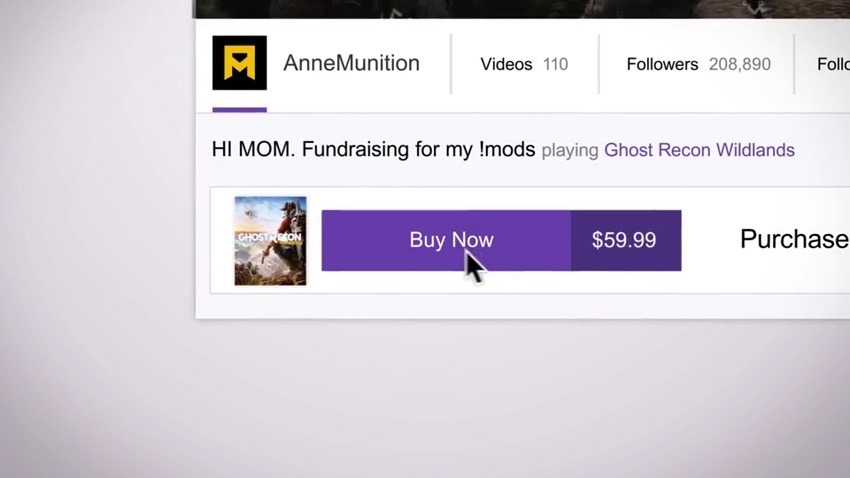 Twitch is the undeniable king of games streaming, but a new move within the company will seek to give them that crown in other marketplaces. Steam reigns supreme when it comes to actually selling the games people stream, but Twitch has seen a large opportunity in closing that circle. That's why the website announced plans yesterday to start digitally distributing games of their own soon, with streamers and viewers alike benefitting from the service in substantial ways.
The idea is simple. Twitch will sell games just like Steam, hosting them on their website. Streamers who are partnered with Twitch will be able to throw up purchase buttons on their streaming pages. Viewers who then buy from this link will give 5% of the sale to the streamer, with the game publisher (or developer, for indies) getting the same 70% across the board. It encourages a relationship between selling and streaming, where streamers try boost a game's publicity to make more cash, and developers just benefit regardless.
Twitch frequenters will also benefit from changing where they buy games. Twitch is offering "Twitch Crates" with purchases, which will unlock the sort of stuff you only get excited about if you live on Twitch chats. Emoticons, badges and Twitch currency for gifs will all be dished out at random in these crates, which makes it a logical choice if you're already spending most of your time there anyway.
The new shift would be nothing without support, but Twitch has already secured interest from the like of Ubisoft (odd considering they have UPlay), Telltale Games and paradox Interactive. Several small indie studio have also pledged support, including Nuclear Throne creators Vlambeer. The service still needs heavy hitters like Activision, Square Enix and more to join the party, so the months leading up to the launch (which takes place in the American Spring) will likely be all about that.
Twitch will have to settle for some of its lesser streamed titles, as games such as Dota 2, Counter-Strike and League of Legends hold no promise of being sold in any capacity on their storefront. But it's an enticing prospect for large and small studios alike. Streaming is just growing, so why not put your games for sale directly where millions are already watching it. That's just smart business.
Last Updated: February 28, 2017