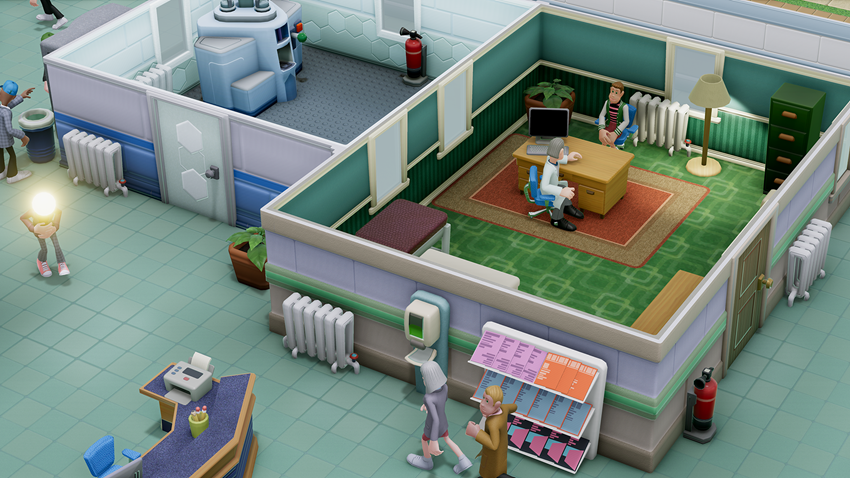 For a little while now, SEGA's been teasing a new game from a new studio called Two Point. It's made up of alumni from the sim-arm of Lionhead, or as it was then known, Bullfrog. It led many (including me!) to hope and pray that the game they were teasing would be a new Theme Hospital – one of the very best games Bullfrog released.
A whimsical game that let players build their own hospital and deal with the ridiculous diseases and afflictions the general populace would come down with, it was a delight.
And it's coming back. Sort of. Yesterday, SEGA and Two Point announced Two Point Hospital, a spiritual successor to that game.
"We're delighted to finally announce the fruits of our partnership with Two Point Studios and reveal Two Point Hospital to the world," said John Clark, Executive Vice President of Publishing for SEGA Europe. "We're committed to finding and working with the best new studios, ones that fit with SEGA's ethos to deliver new IP with strong franchise potential. Two Point Studios' vision for Two Point Hospital and their ambitions for it fit perfectly with that notion and we look forward to releasing their game later this year."
It looks to have all the charm and silliness of the original game.
"Gary and I have been talking about this project for a number of years and are really excited to be announcing Two Point Studios' first game," said Mark Webley, Co-Founder of Two Points Studios. His fellow Co-Founder, Gary Carr added: "The amazing team we have managed to bring together, and our partnership with SEGA, has really allowed this first part of our vision to finally come to fruition."
It's coming to PC via Steam later this year. While I'll happily grab it on that platform, what I really, really, really want is this to launch on the Switch.
Last Updated: January 17, 2018