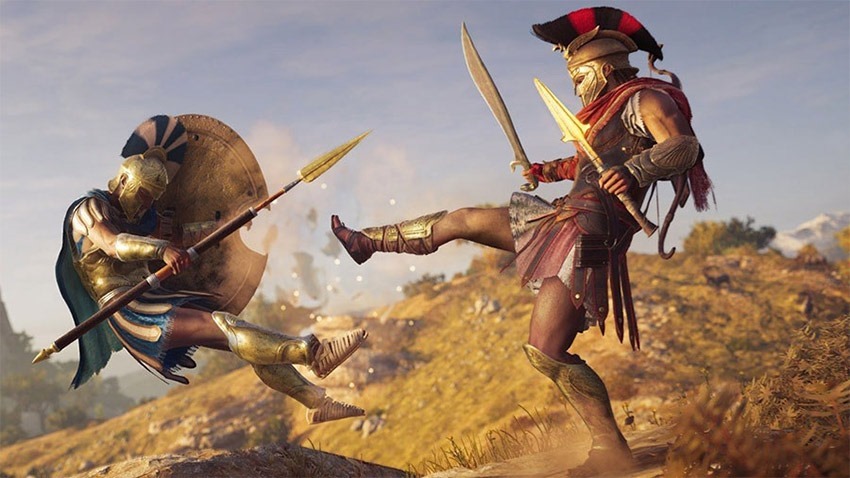 Though it's mostly a sprawling single player RPG epic, Assassin's Creed Odyssey is also a live service game. Or at least, it's meant to be. From soon after launch, Ubisoft was meant to include epic mercenaries for players to hunt and kill, with fantastic loot as a reward.
"Our live events will rotate weekly between Epic Ships and Epic Mercenaries, and are for players who have progressed to level 30 or above. Along with the daily quests and weekly contracts, completing these weekly live events will automatically reward you with a special currency, Orichalcum. This can be spent at a merchant named Sargon at the Oikos of the Olympians. Here you can purchase Rare, Epic, and Legendary items, as well as items offered from the store. This merchant will have new inventory arriving every week! Or you can spend Orichalcum on the Olympian Gift if you prefer to be surprised."
The first Epic Mercenary hunt, meant to go live two weeks ago, was unceremoniously cancelled, with Ubisoft joking that the intended mercenary had gone missing.
"Rumor has it that Damais bailed at the very last minute. Apparently, he was intimidated by the idea of facing the misthios. He'll give you a fair fight as soon as we track him down."
Ubisoft's live events are meant to alternate between Epic Ships and Epic mercenaries – and so far, the ship bits have gone off without a hitch. Unfortunately they just can't get the mercenary bit right, as Damais is still nowhere to be found. Ubisoft has confirmed that once again, its mercenary hunt has had to be binned.
"Remember Damas the Indifferent?" Ubisoft's Assassin's Creed account said on Twitter. "So far we've had no success in tracking him down, so, unfortunately, there won't be a live event this week."
Remember Damais the Indifferent? So far we've had no success in tracking him down, so, unfortunately, there won't be a live event this week.

We're working towards a solution to address an issue that prevents the mercenary live events from appearing as soon as we can. Stay tuned. pic.twitter.com/BHqEp1g3cb

— Spooky's Creed ? (@assassinscreed) October 30, 2018
Last Updated: October 31, 2018