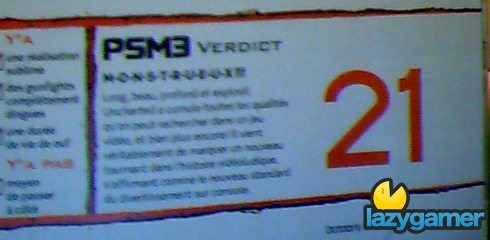 The first Uncharted 2 review has been leaked and to say that the French magazine PSM3 rates it highly would be an understatement.
That 21 up there isn't 21/100 it is actually 21/20, giving Uncharted 2 an incredible 105% review score.
They concluded their review by saying
"Long, visually stunning, deep and explosive, Uncharted 2 combines all the qualities you can find in a videogame, and more! A new milestone has been reached in the videogame history"
So yeah I think they liked it… I hadn't heard of PSM3 before this image hit the net so I am still waiting on the big reviews but I would be incredibly surprised if it receives anything under a 93/100 from all the respected sites.
Uncharted 2 looks absolutely awesome and if it's any better than the first Uncharted then it's worth the cost of a PS3 Slim just to play it.
Source: Noelshack
Last Updated: September 15, 2009