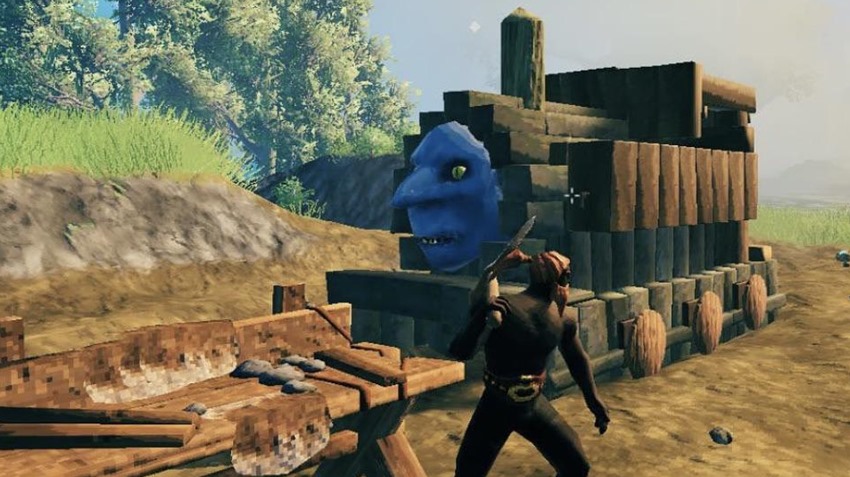 With enough time, resources, and preparation, anything is possible. Like taking the decapitated head of a troll in hit new game Valheim and building a structure around it that highlights how the despised creature wishes its physical remains weren't being desecrated in such a way. With more than five million sales so far, the odds of this choo-choo masterpiece was bound to happen, resulting in digital art that's as fantastic as it is bonkers.
And it's worth noting just how awe-inspiring this art installation is. Within the world of Valheim, Trolls have taken down countless new players who have been unprepared to face the titans as they roam the forests. Big, smelly, and armed with a giant wooden club, the dull-witted giants have taken down scores of players so far.
As spotted on Reddit via PC Gamer, one Valheim player came out of such an encounter the victor and claimed the head of the troll as part of the loot-splosion that occurs after defeating one. Deciding to create an homage to The Railway Series of books that stars the anthropomorphic sentient train engine, the end result is disturbingly fantastic.
The only thing that's missing is a digital George Carlin to wax lyrical about seven words you can't say in video games.
In another great Valheim story, have you heard of the Body Recovery Squad yet? If you should happen to fall in battle, and you know where to find them, then maybe you can hire Valheim's A-Team of corpse retrieval experts. The Body Recovery Squad was recently set up through a dedicated Discord server, and its members will help retrieve your loot for you after you've died provided that you're a member of a channel called #assistance-application on the server.
Just hit the SOS button after you've died, and an operator will dispatch the team to scour the land and grab your valuable goodies from your cold dead hands. Speaking to Eurogamer Body Recovery Squad founder Lucas aka Rim Jaynor, explained how the idea for the group came from a single moment in which he almost lost everything to a Deathquito. "That singular moment, losing everything, can be so detrimental to players and has caused some to quit playing the game entirely," Lucas said. |I thought to myself, what if it didn't have to be that way? What if there was a lifeline out there that helped players keep going?"
Which just goes to show, that some heroes truly don't wear capes.
Last Updated: March 15, 2021