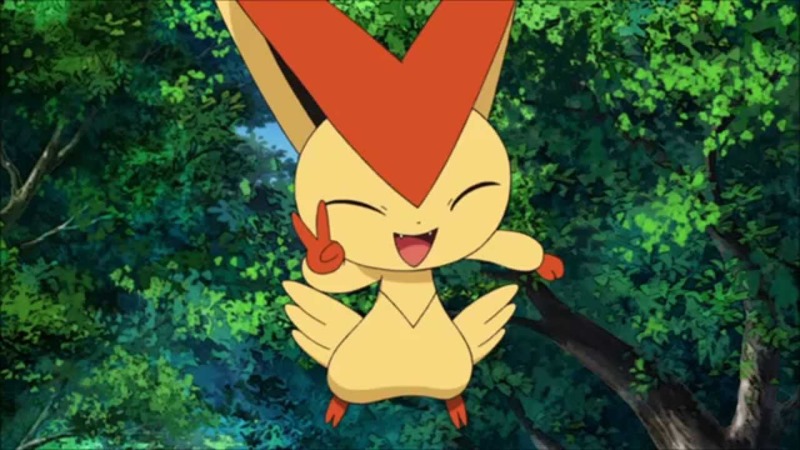 2016. The year of Pokémon. It shall never end, as it rolls onwards and onwards to crush the heads of its enemies like a sparrow's egg between mighty thighs. ANYWAY! Pokémon Go may be hogging all of the pocket monster limelight, but 2016 is still a fantastic year so far for the collector whose collection of overpowered critters is missing a few legendaries.
Last month saw the god Pokémon Arceus available to kids, because having the power to shape reality whenever you want to is just perfect for any tween who happens to be on a journey without any parental supervision. This month? You're getting Victini, one of the cutest little Pokemon of all time. Even cuter than Jigglypuff, possibly. Here's the Pokedex entry for Victini:
Victini
TYPE: Psychic/Fire
ABILITY: Victory Star
MOVES:
Incinerate
Quick Attack
Endure
Confusion
Victini brings victory! It is said that Trainers with Victini always win, regardless of the type of encounter. When it shares the infinite energy it creates, that being's entire body will be overflowing with power.
Victini is easy enough to download. Boot up your 3DS, flick your wifi on and go to the mystery gift option. Easy! It's also a hard as nails Pokémon to acquire. Originally released as download bonus for Pokémon Black and White back in 2010, the little guy has only been available in events from then on. Fun fact: If you take a Victini to Liberty Garden in Pokémon Black and White 2, it'll jump out of its Pokeball and dance around.
And as an added reminder, remember that Victini is only available in the Legendary Distribution event for Pokémon X/Y/Omega Ruby and Alpha Sapphire. But you'll definitely want a handy Psychic and Fire-type before Pokémon Sun and Moon arrives. The little guy is a powder-keg of potential, which is probably why it's name is a portmanteau of victory and destiny. Ha! Dammit, I just burnt myself.
Last Updated: September 1, 2016