It's been a bumpy journey for downloadable content in video games. From a rocky start with AMAZING horse armour in the Elder Scrolls through to more substantial content such as the ground-breaking expansions of The Witcher III, DLC is a lot healthier for the long-term prospects of a video game than ever before.
Sure there's a lot of fluff out there, but the market is doing pretty well all things considered. People are hungry for more content in their games, or are more than happy to splash out a few bucks on cosmetic goods. Digital content which isn't just on the rise, but is also shaping the profits of the entire industry. "Consumers are becoming more comfortable buying games digitally, pushing the share of full game revenue ($4.03B) past additional content ($4.0B) for the first time next year," the latest Superdata revealed.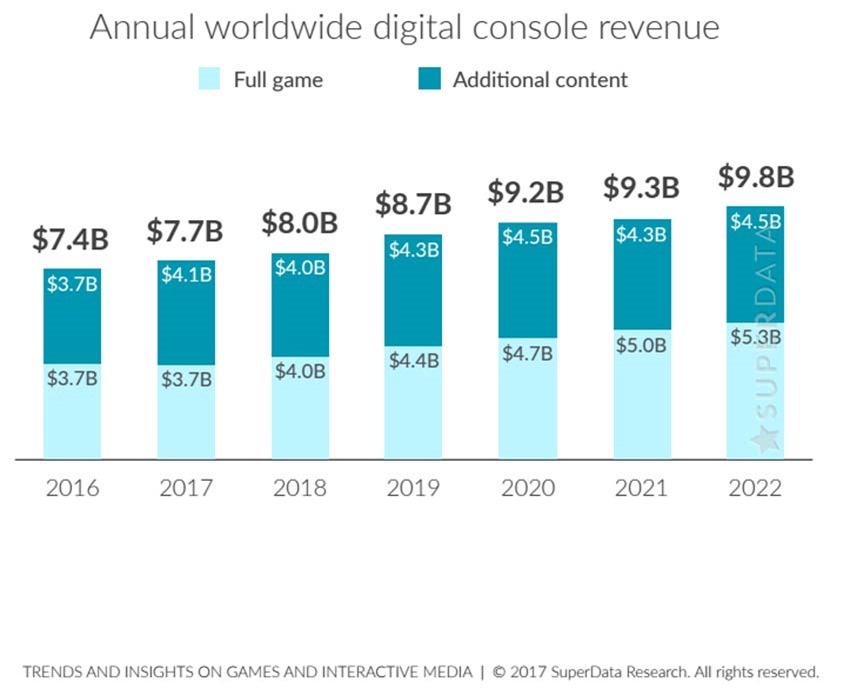 Successful publishers like EA and Activision Blizzard are catering their digital strategies to their games' unique user bases and game types.
It's hard not to see evidence of this shift lately. Cosmetic DLC appears to be a surefire winner, albeit if it happens to be made available in a manner that isn't overzealous in its approach…right, Evolve? Games are also evolving, becoming less of a product that's done in one sitting a week after launch and are now instead becoming platforms for more content to be layered onto.
Think Hitman, Destiny and Call of Duty. Games which know how to monetise their audiences perfectly. Rocket League is perhaps the perfect example here, as it keeps its lights on at night not by charging for gameplay content, but rather through the sale of pure vanity goods."Indie title Rocket League ensures its longevity by keeping all its meaningful content free and monetising solely through cosmetic items," Superdata's report revealed.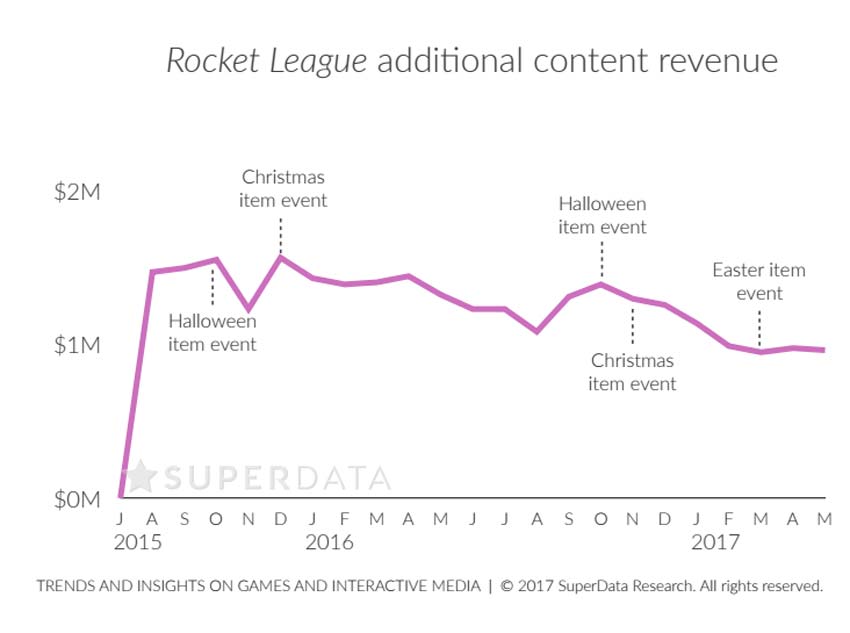 Limited-time items give players an incentive to spend heavily during holidays and other in-game events. Esports has become a major focus for Rocket League as its developers use revenue from in-game items to fund prize pools.
You can bemoan the use of DLC in the industry as much as you want, but when the end results equals or betters the original product then you can be safe in the knowledge that digital downloadable content is here to stay for the long run. Especially when DLC profits are expected to climb from $4.1 billion this year all the way to $4.5 billion by 2022.
Last Updated: August 3, 2017