In a fantastic grand final, Virtus.Pro ended their dominant weekend off with a 3-2 Victory over Team Solo Mid at the Dubai ESL ESEA Championships. The Polish favourite became to the team to watch after they defeated world number one ranked team Fnatic, sending them packing in the semi-final. Virtus.Pro claimed the titles as champions, as well as $100,000.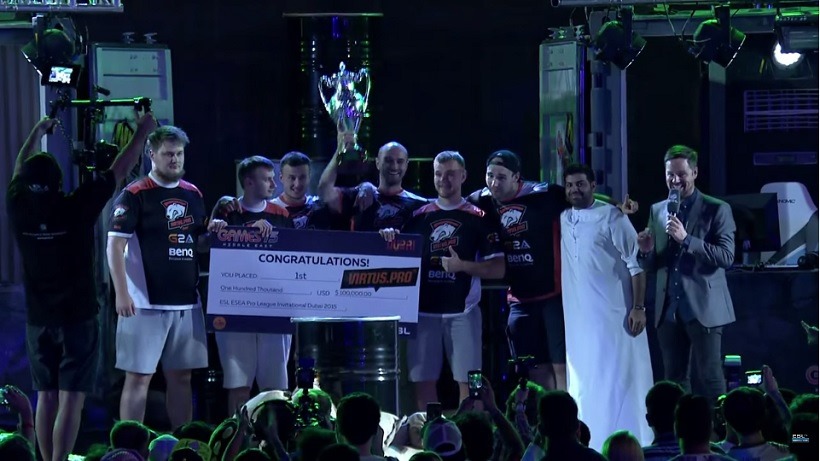 Map 1: Overpass
Virtus.Pro have always been a force to reckon with on Overpass. Their speed and strategies are often unparallel and that became evident as they executed incredibly paced take on the B bombsite. Team Solo Mid held their own for the most part, and managed to secure a 10-5 finish at Half Time. During the second half TSM ran away with the game jumping to a 14-7 lead over VP, but in a glimpse of hope for VP fans, they managed to stage a small comeback and pause at 15-13. Unfortunately it wasn't enough and TSM took Overpass 16-13.
Map 2: Train
Slowly becoming my favourite map to watch, Train is always an exciting blood bath and nothing short of spectacular between these two teams. TSM kicked it off on the Terrorist side, and hot off their victory on Overpass, their aggression was welcomed by the strong VP defense. Virtus.Pro held it all together and thwarted any attempt the Danish team made on their bombsides. VP secured a comfortable 11-4 half time, and were ready to go on the offensive.
Virtus.Pro now had the lead, and the aggression began to hinder any real economy growth for TSM as they struggle to put more than three rounds on the board as Terrorists. Virtus.Pro took the map 16-7.
Map 3: Dust 2
Most grand finals are often neck and neck throughout the maps. Dust 2 was a major exception in this case as TSM decided they'd had enough and executed a 16-3 finish over VP. At this point TSM were one win away from taking the who series, and after a promising win like that, it seemed like all hope was lost for VP.
Map 4: Cobblestone
When I think of Cobblestone, two teams come to mind: Virtus.Pro and Virtus.Pro. They've always been one of the first teams with every major map change to think of some of the best plays, and interesting strategies. This became evident on Cobblestone as Virtus.Pro put up a strong defense as TSM almost tried to execute the same strategy round after round. The emphasis on the B bombsite isn't uncommon on Cobblestone, but TSM relied way too much on entry frags, and thus were shut down when they couldn't get those opening frags. Virtus.Pro secured a 9-6 finish and went on to the Terrorist side.
VP used their momentum from the first half and punished TSM on the offensive focusing mainly on the drop down, catching TSM off guard and only allowing the Danes one round on their defensive half. VP took Cobblestone 16-7 and now both teams were tied at 2-2.
Map 5: Mirage
When taking this matchup into account, Mirage is an even map. Both teams are synonymous with flawless victories on Mirage and this was the best map to seal off the series. The game was neck and neck until Snax picked up the AWP and set up the turret in the A bombsite which TSM could not penetrate. It's not often we praise a single player for single handedly winning a game for a team, but Snax definitely did some work. VP pulled away with a 12-3 finish at half time, and it seemed all but over for TSM.
Having a more sturdy defense on the Counter-Terrorist side, TSM slowly began their comeback taking it round by round and to the amazement of the crowd managed to take the lead 14-13 after being down by 9 rounds. It's crunch times like these where we see just why Virtus.Pro are one of the best teams in the world. Virtus.Pro kicked it into gear and made the final push on the back of TSM making costly mistakes. Economy plays a major role in those final rounds, and once you lose a win bonus and your economy is reset it's almost impossible to sneak an save round off, especially on the final round. Virtus.Pro took the game 16-14 and were crowned the champions of ESL ESEA Dubai.
Last Updated: September 14, 2015