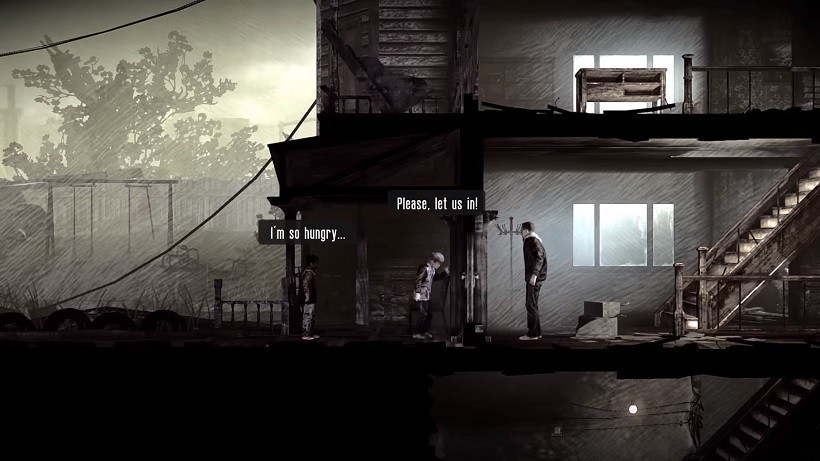 This War of Mine is a survival title that plays out, not from the usual perspective of the soldiers in battle, but rather, the civilians who have to deal with the harsh conditions any typical war sets. Outgunned, outmanned, and with pretty much nothing left to do except not die, these people have to scavenge and manage their resources as best they can if they want to live to see the next day.
I've not played the original game myself truth be told. I've heard good things though from friends, and even Darryn scored the title a respectable 8 out of 10. There's now a new version (or sequel of sorts perhaps?) on the way, which will debut on both the PlayStation 4 and Xbox One.
This War of Mine: The Little Ones will have players worrying about their usual civilian chums and children too. Here's the latest trailer, snatched straight off the PlayStation Blog (via Game Informer):
This War of Mine: The Little Ones explores the hardships of wartime survival as seen from an entirely new perspective; that of a child.

Based on This War of Mine, The Little Ones puts you in charge of a group of adults and children stuck in the middle of hell, trying to survive in a besieged city; struggling with lack of food, medicine and constant danger. The question is: how far will you go to make it through another day?
Inspired by real-life events
Control your survivors and manage your shelter
Take care of innocent children – create toys for them and make them smile
Craft weapons, alcohol, beds or stoves – anything that helps you survive
Make decisions – an often unforgiving and emotionally difficult experience
Randomized world and characters every time you start a new game
Charcoal-stylized aesthetics to complement the game's theme
Well, that looks deliciously grim! I know it's a completely different game, but it strongly reminds me of the first season of Telltale's The Walking Dead, where Lee has to look after Clementine during the zombie apocalypse. That title too, was packed with many difficult decisions.
This War of Mine: The Little Ones looks like it will be far more taxing emotionally. What happens if that child is unattended and left to starve? What if an adult goes out for supplies and never comes back? I don't even want to know…
What do you think though? Will you be playing This War of Mine: The Little Ones when it comes to console on January the 29th early next year? Is your heart ready for all that emotional drain?
Last Updated: December 3, 2015