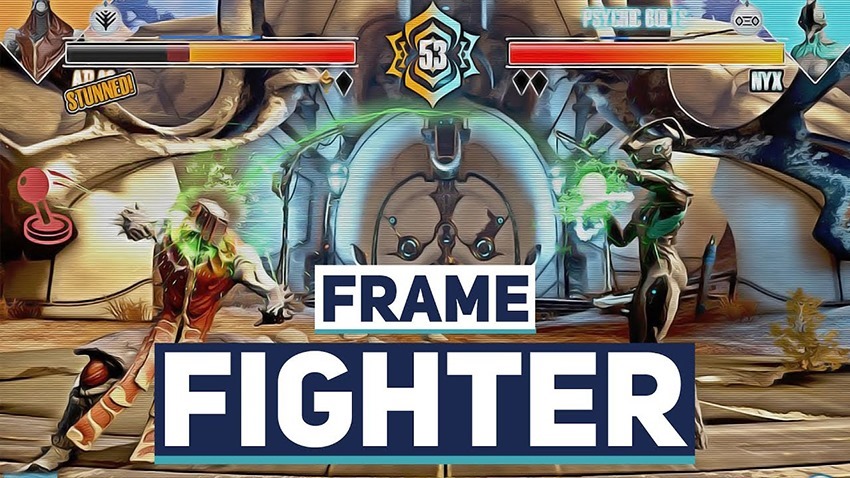 With some of the most incredible community engagement I've ever seen, I would say Warframe has the best development/support team in gaming today. That's may just be my opinion, but Digital Extremes have just gone a long way to make it fact. Last Thursday, community managers Rebecca Ford and Megan Everett hosted the special 200th episode of Prime Time, the bi-weekly live stream in which they have fun with and showcase the work of the Warframe fan community.
One such fan is LocoCrazy, who back in January got quite a bit of buzz online when he tweeted out a piece of art he had done using in-game assets, imagining Warframe as a fighting game called Frame Fighter. For the 200th episode of Prime Time LocoCrazy was invited to join the crew for the stream, where they then surprised him to reveal that they liked his idea so much they made it into a reality! It was still very clunky and a bit broken, but it was pretty cool to see the dev team honour a fan like that just for fun.
Well, more than that actually as the very next night, in the 108th episode of Devstream (in which Reb and Megan are joined by the developers to reveal behind-the-scenes early looks at any content they're working on or have planned), it was revealed that Frame Fighter is actually going to be made available in the public release of the game very soon! This won't be a fully fledged conversion though, as the new mode will only make use of the three starter Frames (the original frames new players get to choose from). That means just Excalibur, Mag, and Volt (the punchy Atlas would have been perfect though), but that is still pretty awesome.
This is, of course, not a new thing to have fan-created content enter the game, as DE regularly hold Tennogen, a competition in which fans can submit their own designs for Warframe skins, weapons and attachments via Steam. DE judges the Tennogen entries and the winning selections are developed and implemented in the game as paid-DLC with DE splitting the earnings with the creators. It's actually a very cool initiative.
Speaking of very cool, there was a lot more to the Devstream than just Frame Fighters as we also got our first in-action look at the Corpus Spider-Tanks that were revealed a short while back. Any arachnophobes that were dreading seeing waves of "spiders" on their screen need no longer fear, as you won't see anything since they can cloak. Invisible giant spiders. Yay! We also got to see Zephyr Prime, the latest Prime variation of a warframe to be released tomorrow, 20 March, following on from Mirage Prime a few months ago. I don't play Zephyr, but I really like her look, especially the feather-like blades on her arms. Zephyr wasn't the only Warframe on show, as there was also a brief update on the status of the next Warframe, Khora – mechanics wise, she's in a good but they still need to tweak design and FX.
On top of that, we also got shown how the Endless Kuva game mode would work. These will be a variation of Survival played out on the Kuva Fortress itself. Enemies will drop a pickup, the Kuva Filter, which once inserted into a life support tower will turn it into a Kuva Tower. It will no longer restore life support but instead, it will filter out Kuva, which means balancing life support to survive the mission with Kuva acquisition. You'll have to defend this tower for X amount of time from enemies who are very unhappy that you'll be taking their Kuva. Once the timer on the tower runs out, the filtered Kuva is yours! They still haven't finalized some details yet though, like the name of the Kuva Tower or how much Kuva you will get on each rotation, so it will be at least a week or more before it gets implemented.
The team also revealed more details on the Void Onslaught mode which originally began life as a replacement for the Dark Sectors mode but has now become its own thing. A thing that I'm not too sure about actually, as it's just a dungeon-like time-based leaderboard game mode where you try to clear as many sectors and get as high a score within the time limit. As some have already pointed out, if it's just leaderboard-based, then what's the point? DE has said there would be weekly rewards, but unless they're pretty big prizes, Void Onslaught probably won't have a sustained appeal.
There were more details shared on Devstream 108 including a new particle system, new tileset variants for Uranus Defense missions, and more, including a new patch going live on console today which includes much-anticipated beam weapon changes! And I'm just about to start building my Amprex! Whoo hoo! You can check out all the details in the official overview post OVER HERE. Clem!
Last Updated: March 19, 2018