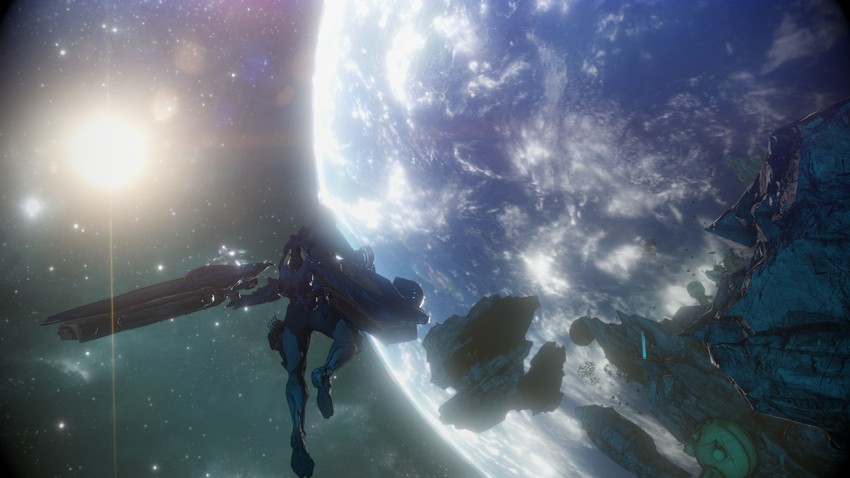 It's very hard to pin down Warframe with a single description. What began as a free-to-play corridor shooter – revived from the ashes of an older game, Dark Sector – has evolved into a game that encompasses everything from sci-fi parkour ninjitsu to alien world fishing and conservation simulator. I guess the only way to describe Warframe properly is ambitious. And now developer Digital Extremes may have just outdone all the already insane ambition they've shown thus far with an upcoming collaboration that goes above and beyond of anything else out there.
There are many games that allow you to rocket off the surface of Earth and travel in orbit around our planet. All of that happens in-game though, and you usually have to experience it from behind a controller or keyboard and mouse. At best you may have a virtual reality rig, but even advanced modern VR is a poor substitute for the real thing. And that's exactly what DE is offering: Sending you to space for real.
There aren't too many details outside of the above trailer that was revealed at Tennocon over the weekend, but this may already be the greatest gaming competition on Earth. Or in orbit around it. So how do you get into the running for this momentous contest? Well, the steps are shockingly simple. Between now and 31 December 2019, simply head over to https://www.warframe.com/spaceninja and login with your existing Warframe account or create one if you're a new player. Agree to the terms and conditions and you're automatically entered into the draw to win a cheque of $250 000 which will be used towards a trip to space. What's more, for every day you log in and play Warframe up until the end of the year, you will get an additional entry!
And before you ask, I've gone through the T's&C's and there doesn't appear to be any restrictions as to entering from South Africa or any other country outside of North America. Both EU and Canadian residents have a few more checks they need to agree to, but it's completely open.
The fine print does indicate though that Digital Extremes won't be the one giving you this space trip, as you would have to arrange everything yourself with one of the organizations that offer this service. They're merely providing the funds based on the current cost of such an exercise. If there are any additional costs (which I assume includes travelling and taxes) you will have to foot the bill for the extras yourself. Even with those additional costs though, $250 000 towards a trip to space is still an insanely cool prize and I am definitely entering as many times as I can! To infinity and beyond!
Last Updated: July 8, 2019