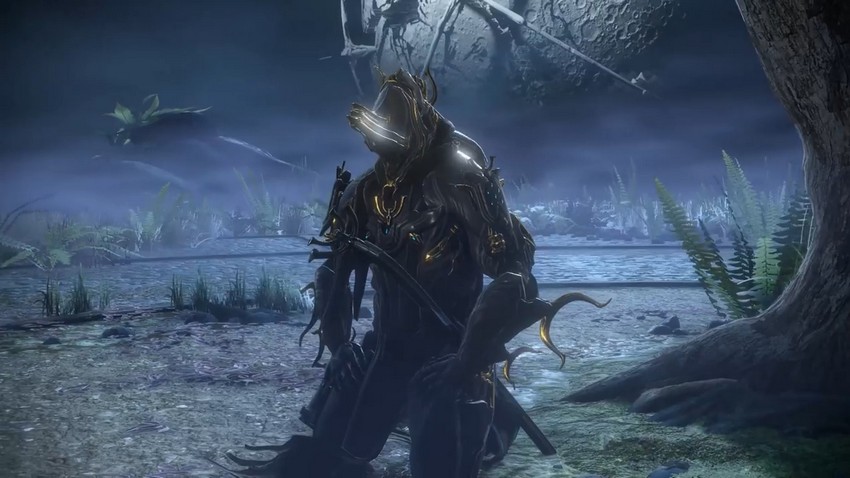 PC Tenno rejoiced this Friday past as Warframe's long-awaited The Sacrifice quest finally rolled out after what felt like years of teasing. As I am one of the console Tenno scum, I will have to wait a few weeks for all the de facto PC beta testers to work out all the kinks and bugs developer Digital Extremes to roll the new quest out to PS4 and Xbox One. And in that time, I will be avoiding certain sections of the internet like the plague for fear of having the quest's narrative spoiled for me. There's one aspect of The Sacrifice that I had to do some reading on though, and that's Excalibur Umbra.
First revealed in the initial teaser trailer for Sacrifice 11 months ago, Excalibur Umbra is a new variation of everybody's favourite original sword-swinging space ninja frame, Excalibur. Exactly what his story is and how this new version comes to be, I won't reveal here… because I have absolutely no idea and don't want to find out until I get a chance to play The Sacrifice myself. What I do know though is what Excalibur Umbra brings to the game.
First off, attaining Excalibur Umbra could not be easier as simply completing The Sacrifice quest will get you the full frame, ready to go. And I really mean ready to go as you get Excalibur Umbra and his Skiajati Nikana and Exalted Umbra Blade already levelled up to max (and yes, you also get the Mastery Rank points you would normally have achieved from ranking them up). The frame also comes pre-installed with an Orokin Reactor along with three polarized mod slots – using the new Umbra polarity – and three new unique Umbral mods (Umbral Intensify, Umbral Fibre, Umbral Vitality) already upgraded to rank 5 of 10. And that halfway mark is very welcome because these Umbra mods are apparently crazy expensive in the Endo/Credits department to upgrade.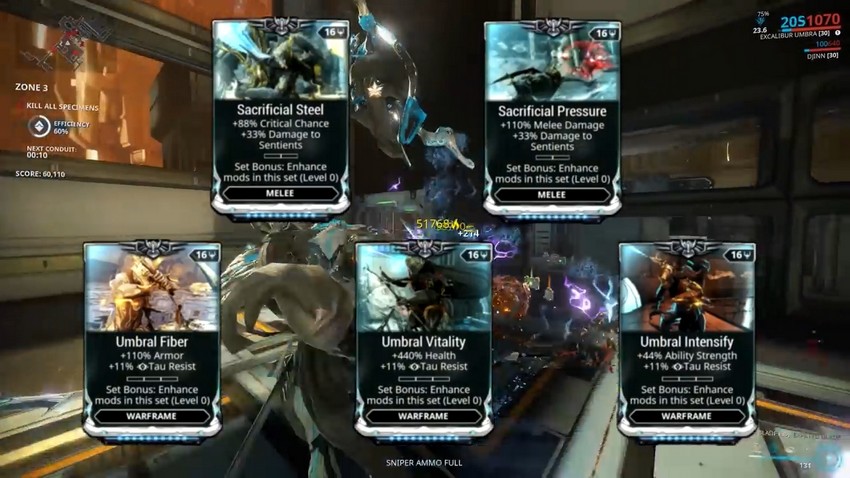 The Skiajati Nikana and Exalted Umbra Blade weapons also come with two mod slots with the new Sacrificial Pressure and Sacrificial Steel mods (special Primed variants of Pressure Point and True Steel) already equipped. These Umbral/Sacrificial mods come as sets, complete with set bonuses. For the Sacrificial set, the mods become stronger the more you have equipped and give extra damage to Sentients, while the Umbral set gives you more resistance to incoming damage from Sentients. These can be used on other frames, but since they are essentially primed mods and use the new Umbra polarity, using them on other frames where the polarity can't half their drain is going to be a very costly affair.
Already, this sounds like a pretty sweet deal for a free frame but there's more as Excalibur Umbra also boasts better base stats over the original Excalibur, bringing his max energy and armour to 150 and 300 respectively as opposed to 100 and 225. As for his abilities, Excalibur Umbra essentially has the same abilities as his namesake, although Radial Blind has now been replaced with Radial Howl. This "new" ability has exactly the same effect by stunning enemies, but it has a longer cast time and adds the bonus effect of resetting the resistances of any Sentient enemies you encounter. You can already do that when in Operator mode, but clearly DE is positioning Excalibur Umbra as the go-to Sentient hunter frame in the arsenal, which is pretty cool.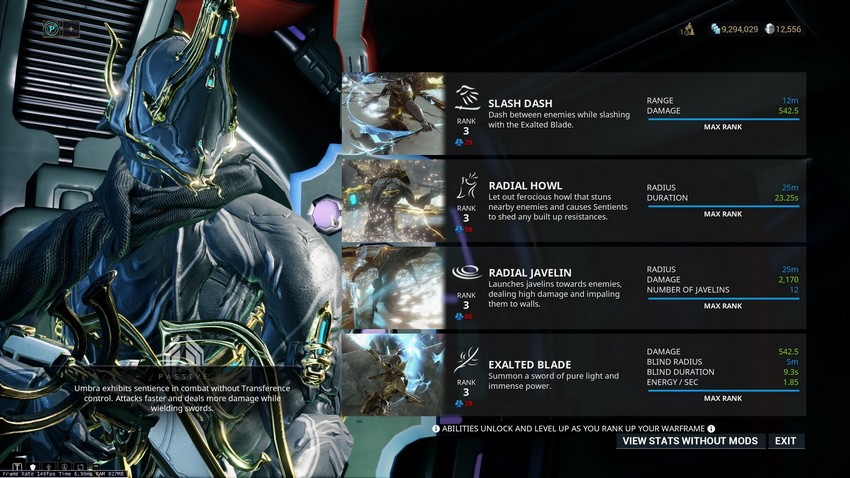 And speaking of Operator mode, this is probably Excalibur Umbra's biggest new ability. Normally when switching to Operator mode your frame is left to stand around lifeless as you proceed to try and fight by yourself as the Operator. However, Excalibur Umbra will actually retain some sentience like a Spectre when you go into Operator mode and fight alongside you using whatever weapons you have equipped (primary weapon is preferred but it will use a pistol if you don't have one equipped) as well as the full suite of your abilities. Reportedly, it's very effective in dispatching enemies by itself but if it takes enough damage to drop its health to zero it will become stationary again until you swap out of Operator mode just like any other frame.
All of that and one sweet looking scarf means that I can't wait to get my hands on Excalibur Umbra when The Sacrifice finally hits PS4 and Xbox One at some point in the next two weeks.
Last Updated: June 19, 2018