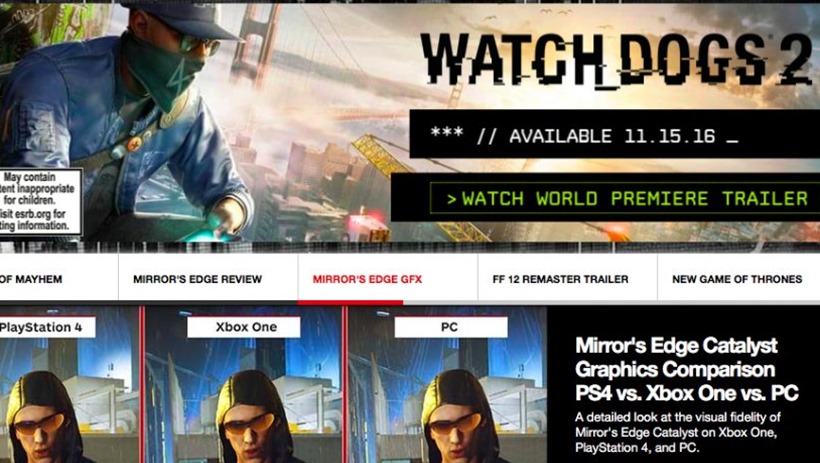 I love this time of the year. For writers, it's like Christmas as leaks and news stories come flooding in. Pretty much like the last time I attempted plumbing, only a tad bit less messy. The latest such prE3 leak? None other than Ubisoft's upcoming Snowden-esque sandbox and digital espionage game Watch Dogs 2: Electric Boogaloo.
It's a sequel which has been about as badly secretive as Donald Trump's combover. Everyone knew that Ubisoft would eventually get around to a sequel, and the leaks for Watch Dogs 2 have been pouring in for months now, to the point where the French publisher and developer pretty much confirmed the game and told everyone to be patient as a proper reveal would be shown on June 8.
And then IGN leaked a few details ahead of schedule. PureXbox broke the news, having saved for posterity a screen grab of the Watch Dogs 2 banner that IGN jumped the gun on. Here it is, in all of its glory:

So, quick notes: November 15 is when you can get your Watch Dogs 2 fix, and this time you'll be hacking the city of San Francisco. As a sandbox, San Francisco is notable for having ridiculously steep roads, a network of trams and the iconic Golden Gate bridge. Should make for some nice locations, something which Ubisoft usually excels at.
As for that date, that makes Watch Dogs 2 the big end of year tentpole game that Assassin's Creed usually is. With that franchise taking a year off, Watch Dogs 2 is filling in that void and will face competition in the form of Call of Duty: Infinite Warfare, Dishonored 2, Pokemon Sun/Moon and Gran Turismo Sport. That's some stiff opposition right there.
Look, I wasn't a big fan of Watch Dogs. It had all the elements to be a winner, but it was a bland and boring game with a cliched square-jawed protagonist who did very little to drive the plot forward when he was surrounded by infinitely more interesting characters such as Jordi. Actually, just Jordi. Anyway the point is, is that I hope Ubisoft can do for Watch Dogs what they did for Assassin's Creed: Craft a cracking good sequel with a protagonist that fans adore and admire.
And then release two spin-offs in successive years and various other annual games before giving the franchise a break.
Last Updated: June 7, 2016