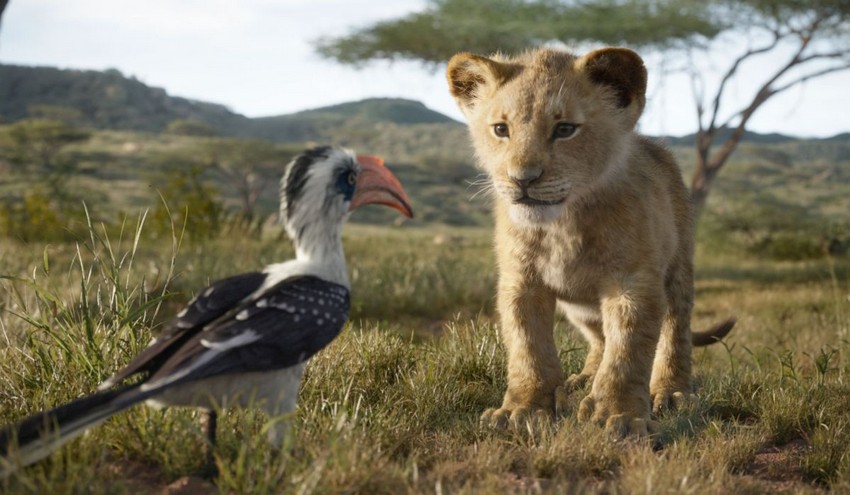 The first full official trailer for Disney's upcoming "live-action" remake of The Lion King has just dropped online. I threw up those proverbial air quotes around "live-action" because I need you to understand that this film actually isn't. For the layman, live-action probably implies that real animals were perhaps used to recreate the beloved two-time Oscar-winning 1994 animated original, or at the very least that digital characters were placed in a real-world backdrop. That would be a nope on both accounts though.
Instead, director Jon Favreau, using the skills he honed on The Jungle Book remake, shot motion-captured actors standing in for animals on a full-sized bluescreen stage, all to be digitally painted over later. This approach has become known in the biz as a "virtual production". And because there were real people using real cameras to film other real people doing stuff, The Lion King is still considered a live-action film. Except it really isn't. But holy hell, my eyes can't tell the difference as every frame of footage in this latest trailer is about as realistic as I have ever seen!
My eyeballs are still melting but damn did they go wide when Timon and Pumbaa showed up. I don't care what you say, they were always the true stars of the original and you guys can hakuna my tatas if you disagree!
Disney showed off a full scene from The Lion King at CinemaCon last week, where it blew away those in attendance. One note that was made though, is that for the talking animals Disney is not trying to make the animals human-like in any way. Their facial expressions and mouth movements while talking are never exaggerated past the point what an actual animal would be capable of. This ups the air of realism even further, but it remains to be seen how this works in film's more complex singing numbers.
The Lion King stars the voices of Donald Glover, James Earl Jones, Billy Eichner, Seth Rogen, John Oliver, Alfre Woodard, Beyonce Knowles, Chiwetel Ejiofor, JD McCrary, Shahadi Wright Joseph, John Kani, Florence Kasumba, Eric Andre, and Keegan-Michael Key. It is scheduled for release on 19 July 2019.
Last Updated: April 10, 2019