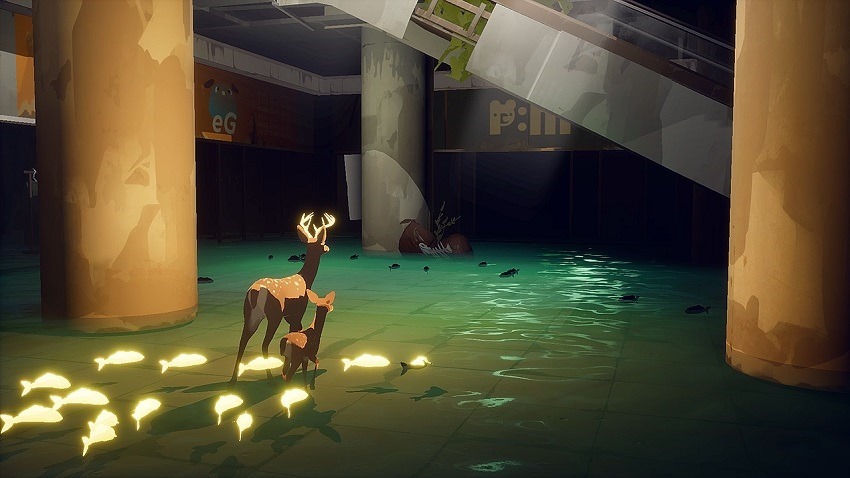 If you've always loved The Last of Us but felt a very specific need for it to feature more animals, Way to the Woods might actually be something you accidentally imagined before today. This gorgeous looking new adventure game reaches deep into the well of post-apocalyptic themes, but puts you in control of a doe and her fawn instead of a gun-toting human. That's a strange departure from what the setting has taught us to expect, but it's more intriguing because of it.
Developed by 18-year-old Australian game maker Anthony Tan (who previously worked on Job Simulator and that Rick and Morty VR game but the same studio), Way to the Woods is immediately striking thanks to its watercolour art style. The game pops right off the screen in the reveal trailer below, coating the desolate landscape in bright colours and muted greys. It retains the feeling of hopelessness that the end of the world and its emptiness are meant to convey, but in a more inviting manner than ever before.
You'll play as a pair of deer, who seem to be travelling long distances to find their way back to the woods. That means some puzzling action here and there, as you can see in one scene the deer pushing a train cart on a track. In another, you see the bigger of the two deer use her antlers to smash open a tank in their path, which suggests you might be using that quite often to shift around objects in the world. It's all accompanied by a somber score that Tan himself composed, which is both soothing and hauntingly beautiful.
Tan hasn't detailed which platforms Way to the Woods is out on, but he did reveal plans to release the game next year. With inspirations from The last of Us and Studio Ghibli's Spirited Away, Way to the Woods looks special already.
Last Updated: March 6, 2018