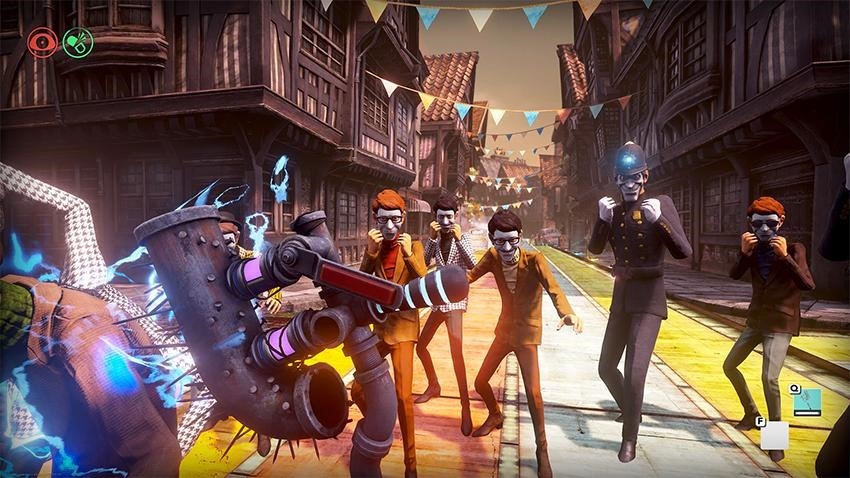 Hey, remember Compulsion Games' odd, drug-fuelled psychedelic survival game? In early access right now, it's a bit of a strange game. Its dystopian aesthetic echoes BioShock, but its gameplay loop is rogue-like.
"From the minds behind Contrast, We Happy Few challenges the very notion of fitting in. The rogue-like first-person action game puts you in control of three Downers – inhabitants of the fictional city, Wellington Wells, who have been skipping on their daily doses of reality-bending, mind-controlling happy pills. Your job is a simple one after that. Blend in, crack heads and stay alive as long as you can, while actively looking for way out of the nightmarish settlement."
It now has a publisher, in Gearbox Games who'll be marketing and distributing the game next year. It also means that the game is headed to PlayStation 4 instead of just Xbox One and PC.
With a publisher in tow, it means the game is getting a grand increase in scope – getting something resembling a full narrative instead of the almost purely procedurally generated game it used to be.
"The game that we're planning to ship in April is roughly 2.5x the size of the Life in Technicolour Update (which has just gone live) in terms of pure content, and we're confident that we will meet the quality and scope expectations that you guys have, Compulsion says in their announcement blog post. "And we're still confident that We Happy Few is going to be unlike anything you've seen.  Although it'll probably, inevitably, still be compared to Bioshock."

It also means that the game is now a full-priced $60 title, so its price has already shot up in its associated marketplaces. It's on a pre-launch special, so it's $50.99 at the moment, but expect it to be full price before its launch n April next year. Compulsion believes the increase will be worth it.

"First, the price. Straight up, we think $60 gives us the best chance of earning back the huge investment we, and the people that believe in us, are making. Retail, and a retail marketing campaign, is expensive. If you've invested $10m into a game, there is no reasonable alternative. And, the truth is, we want to make money too.

We want to be able to continue to make great games after this one, and making enough money to keep growing and thriving is essential to allow us to deliver that. The right approach here is to make sure that you build a game that's worth $60, and that's what we're doing. Building a great team is the other part of creating great games, but if our company isn't a success, we're done."
Compulsion also talks about DLC and Season passes, why they exist and how they'll be implementing them – which is an interesting read.
We Happy Few's aesthetic has always gripped me, but when I tried the preview I wasn't enamoured with the gameplay. I haven't played the thing since 2015 though, so I may try to jump back in to see how much has changed.
Last Updated: August 17, 2017