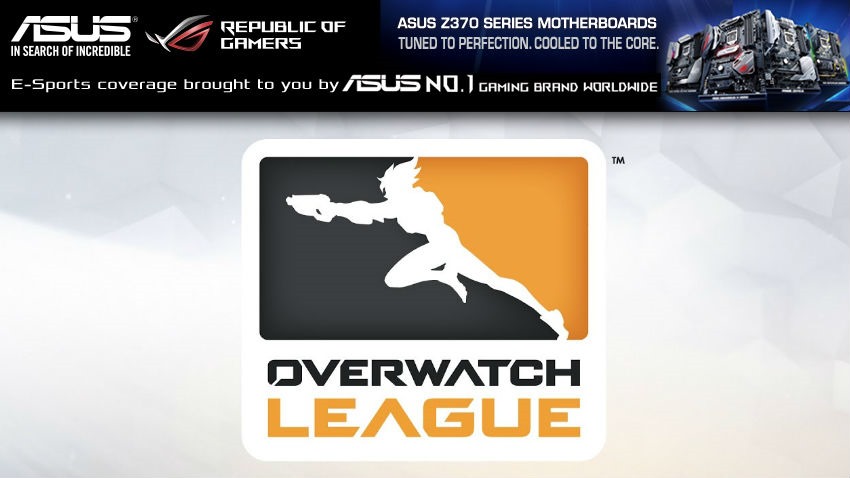 The Overwatch League kicks off on January 10th, and while this has been known for quite some time, the full schedule for January's opening matches were announced this past weekend at Blizzcon.
Nate Nanzer unveiled the new schedule at the "Inside the Overwatch League" panel this past weekend. The schedule was designed to be fan friendly with games taking place on a Thursday, Friday, Saturday and Sunday. We're hoping it's "European friendly" so we can watch too.
It seems this may be the case with teams from separate regions being categorized into groups according to their regions and fans. So the North American teams will play at North American times, etc.

Image via Dot Esports – Blizzard Livestream
The two divisions will be the Atlantic Division and the Pacific Division.
Atlantic Division:
Boston Uprising
Florida Mayhem
Houston Outlaws
London Spitfire
New York Excelsior
Philadelphia Fusion
Pacific Division:
Dallas Fuel
Los Angeles Gladiators
Los Angeles Valiant
San Francisco Shock
Seoul Dynasty
Shanghai Dragons
Teams will play 40 games in total across the first season with 20 being in-division games, and 20 being cross-division. Each season will run for a total of five weeks where teams will fight for playoff spots based on their performance throughout the season. There will also be a title match at the end of each season per division. Eight competitive maps will be chosen for the season, but there was nothing said about transfer windows and roster changes.
Prizes for the competition will include $100,000 for first place, and $25,000 for second place. In the seasons, the following prize pool will be allocated based on positions in the league.
First place: $300,000
Second place: $200,000
Third and fourth place: $150,000
Fifth and sixth place: $100,000
Seventh and eighth place: $75,000
Ninth and 10th place: $50,000
11th and 12th place: $25,000
For the Championship, which will more than likely take place at Blizzcon, will have the following prize pool:
World Champion: $1 million
Runner-up: $400,000
Third and fourth place: $100,000
Fifth and sixth place: $50,000
Total: $1.7 million
Remember, players will also be earning salaries while playing for their respective franchises, and on December 6th we'll get our first taste of the Overwatch League with the preseason exhibition matches taken place at the Blizzard Arena Los Angeles.
Like esports?
Check out esports central
Last Updated: November 7, 2017