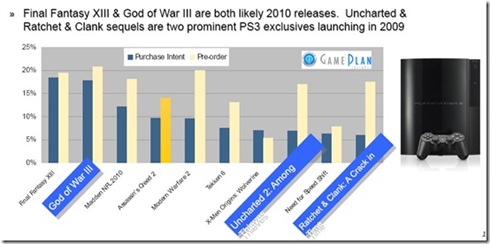 A lot of people have said that 2009 isn't going to live up to the standards that 2008 set in gaming and that we have a pretty dry year ahead of us.
Well personally I have to disagree as Uncharted 2, MW2, Assassin's Creed 2 and Battlefield Bad Company 2 make for a great year for me.
But apparently this year is very much the year of the secondary sequels with that list being added to by Bioshock 2, Mass Effect 2 and Wii Play 2: Wii play some more…
Okay I made that last one up but you see the pattern I am getting at here.
So out of all these sequels what are people really looking forward to? Well OTX GamePlan have been out pounding the pavement and have come up with a pretty little chart for each of the 3 house consoles.
PS3 users up above are mainly looking forward to Final Fantasy (2010), Uncharted 2, MW2, and God of War III (2010).
The Wii guys are not really looking forward to much to be honest, that is apart from Wii Sports Resort and Mario and Sonic Winter Games… Say no more'.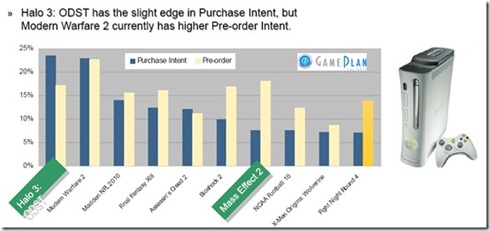 The Xbox 360 fans out there are looking forward to HALO 3: ODST, MW2 and Mass Effect 2.
Personally I want MW2, Uncharted 2, Wii Sports Resort and Assassin's Creed 2… actually I want everything but I will settle for that list if I had to choose.
Check out the full report through the link
Source: Siliconera
Last Updated: April 30, 2009