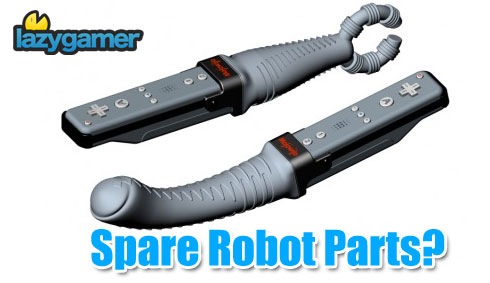 The Wii is home to some of the most bizarre, pointless and esoteric peripherals. Plastic shells that cost money and do absolutely nothing from a gameplay perspective. This latest bunch of attachments, courtesy of Mojowijo is a little different. what on earth could these be?
If you guessed sex toys, for once, you'd be right on the money shot.
These, however, aren't meant to be used with the Wii. Well, not the console, anyway. Using a combination of Pc software and umm..hardware, the dildo-connected Wiimotes are able to be controlled remotely, allowing you to  transfer the movements and vibration from one Wii Remote to the other. – making this a multiplayer experience. As an added bonus, it'll work over Skype – making contact-less sex just that much more sad.
From the official site :
The device is attached to the accessory port on a Nintendo Wii* remote control. The control is then connected to a bluetooth enabled PC running Mojowijo software. Using Mojowijo's patent pending Motion2Vibration technology, the device is able to transform the varying motions of the control into appropriate vibration signals and send them to another selected device – in the same room or over the internet. (Wii gaming console NOT required). Essentially turning your Wii remotes into shared, remote controlled vibrators (aka wii vibrator or wiibrator!)
Classy!
Source : SF Weekly
Last Updated: August 31, 2010