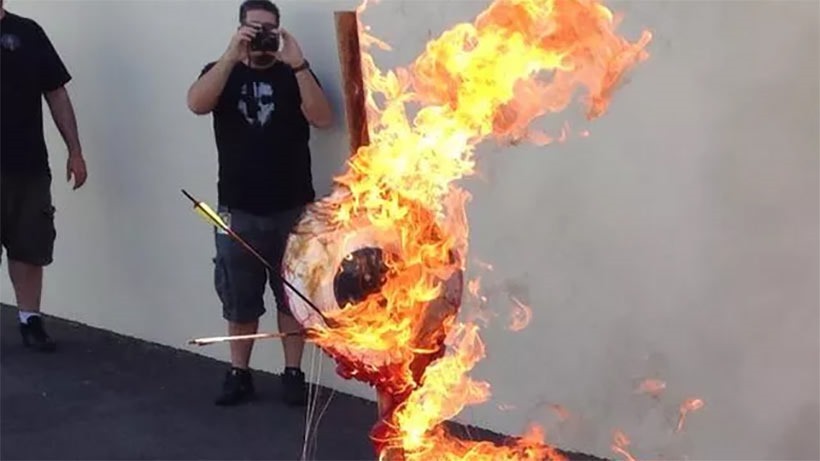 Yesterday, I postulated that Tony Hawk's Pro Skater 5 might end up being a terrible game. The day one patch for the game clocks in bigger than the download for the game itself. Couple that with the late in development art change, the unannounced removal of split screen and the fact that review copies of the game have only just gone out, after launch, and you've got all the hallmarks of a terrible game.
Even after the nearly 8GB patch, the game is still a horrible, glitch mess, as evidenced by the video by the haps from Eurogamer, who've quite rightly been having a laugh at how terrible it all is.
It seems to be a rushed game, made with ineptitude and incompetence – produced to cash in on the nostalgia of fans of the long-running series. It could be a little more nefarious than that. Developer Dan Teasedale spotted a press release from 2002, confirming that Activision's licencing deal with Tony Hawk expires at the end of this year.
Says the 2002 press release:
"Activision, Inc. announced today that the company has extended its successful partnership with world-renowned skateboarder Tony Hawk through an exclusive multi-year video game licensing agreement that expires in 2015."
The cynical Grinch in me is left believing that somebody at Activision realised the contract was set to end, and decided that it was indeed time to capitalise, and wring profits out of the franchise for the last time – before the Tony Hawk name goes off, potentially, to somewhere else. The even more cynical part of me wonders if this isn't a clever way to burn the series' name for good, making it so that other publishers lose interest?
Should we be surprised that Tony Hawk Pro Skater 5 is a bad game? Probably not. Developer Robomodo hasn't managed to pull off a great Tony Hawk game yet (and now likely never will). Their initial foray in to the licence since progenitor, the sadly now defunct Neversoft left it behind to work on Guitar Hero was Ride; a peripheral-based Tony Hawk game that was lambasted by critics and users alike. They then did much the same thing with Shred – and then even managed to cock up an HD remaster of the first game, by yanking out Split screen multiplayer and the Park Creator.
This, I fear, is the end of the road for Tony Hawk's Pro Skater, once one of the greatest franchises in videogames – and it's sad that it's been reduced to such a shambles. As a reminder, it's a full-priced, $60 game.
If anything, we can only hope that all the interest in the game is the impetus EA needs to revive Skate.
Last Updated: September 30, 2015