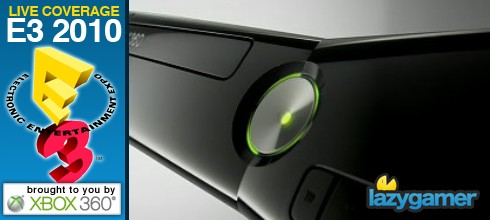 I have had some time to really poke around with the new Xbox 360 and I have a lot of details to share, including everything from its basic specs to some new features, and even a few things you didn't know.
Hit the jump for all the juicy information.
Ok so here is the basics that you need to know.
Will be released for the same price as the current Elite
Is very quite compared to the previous 360 models. Almost silent.
Looks sexy
Built in 802.11m Wi-Fi
Comes with a Kinect specific port which removes the need for external power for the Kinect unit.
Optical Audio port added to the back of the console.
What you didn't know
The CPU and GPU have been merged
The hard drive is stored inside the unit and can be accessed through the base.
The new hard drive is much smaller
All of the buttons on the face are touch sensitive and make a unique sound when pressed.
There are no more memory card slots
The unit now has 3 USB ports in the back and 2 in the front.
Will not ship with HD cables
The vents on the side are for increased cooling
The controller has had some minor changes made to the aesthetics, and now has black thumbsticks and base.
Last Updated: June 15, 2010