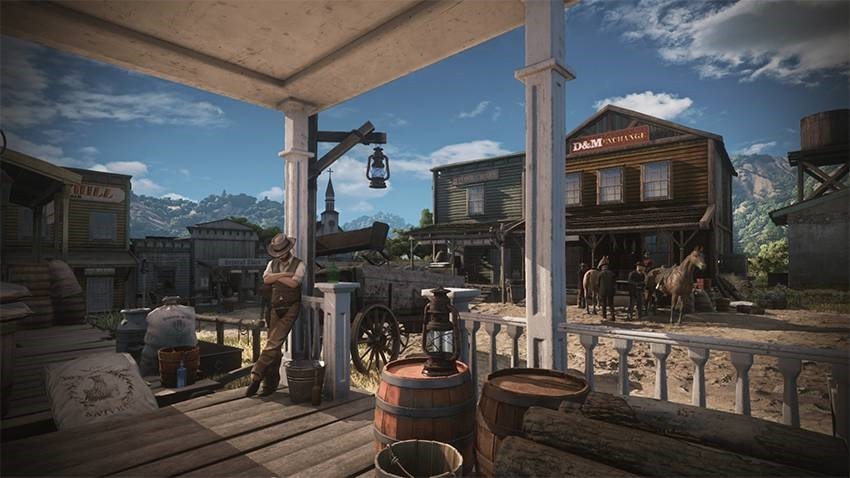 One of the greatest injustices against PC gamers is that one of the finest action games ever made, Vanquish, isn't on PC. That's changing, as SEGA brings the high-octane action to PC later this month. Equally iniquitous is the fact that Rockstar's Red Dead Redemption pen-world Western never made its way to the Platform of Champions.
A new game's set to make up for that. Yesterday, an image circulated around the swirling whirlpools of the internet that was purported to be an off-screen image from Red Dead Redemption 2. It was met with equal parts enthusiasm and scepticism. The sceptics were right. The shot, which looks quite lovely, was from an impending new PC MMO called Wild West Online.
A new studio called 612 Games, whose staff worked on Crysis and League of Legends, helms the game. It's a PvP MMO with a Western theme, going beyond Red Dead Redemptions multiplayer by offering specialisations such as gatherer, prospector and farmer, and put their earnings into the game's persistent economy.
"There's an audience for this that just wasn't being served on PC," Stephan Bugaj, the creative vice president of publisher DJ2 told the chaps at PC Gamer. "So we wanted to make this big, open Wild West world with a bit of a twist that, like the best MMOs, is a place where people can really live in."
Much if the rest of the game seems to take its inspiration directly from Red Dead Redemption. It'll have a wanted system, bandits against lawmen, and all of that sort of exciting stuff that people want from Westerns.
It's coming to Kickstarter soon, with its developers looking for just $250 000 in funding. There are some lovely, probably bullshot screenshots, but nothing resembling gameplay, so a healthy dose of scepticism is in order. There will be more information, apparently, in the coming weeks. 
Red Dead Redemption 2 is set for release later this year on PS4 and Xbox One. There's been no official confirmation of a PC version.
Last Updated: May 12, 2017