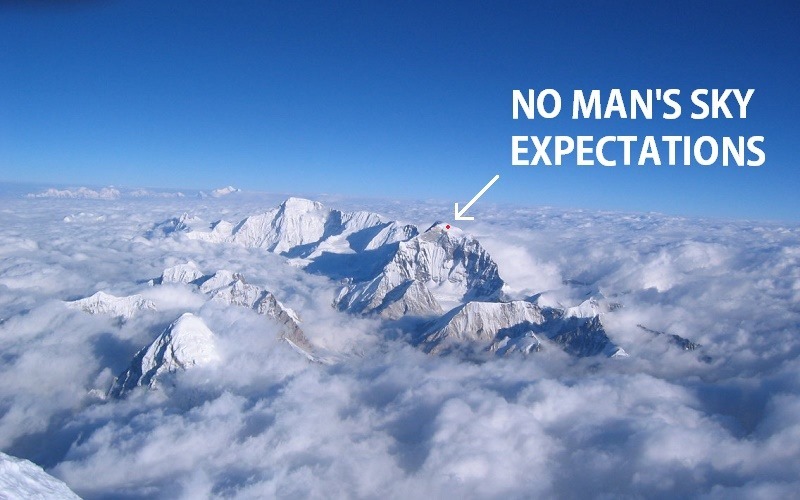 Can I let you in on a little secret? I've paid essentially no attention to No Man's Sky. Why? Because I'm worried about a little thing called "expectation" ruining what might be one of the best experiences in modern gaming.
Seriously, step back for a second and consider the hype surrounding Hello Game's open world, sorry, open universe title. It has been highly anticipated for years now – from its announcement back at E3 2014, right through until now, the week of its release.
Will it live up to the incredibly high expectations placed on it by excited gamers? I truly hope so, but I somehow doubt it. Don't get me wrong, I think the space exploration and such is going to be epic, I just fear that many are setting themselves up for disappointment.
With that in mind, I predict that No Man's Sky will yield an average score of around 7.5 from critics. My reasoning is simple really. The premise and promise of having a whole universe (and every planet in it) as your playground sounds great on paper, but I do wonder if No Man's Sky will have the power to keep players hooked in the long run. At what point will planets all start to look the same? Is their a ceiling where one will run out of things to do? What about bugs? It sure sounds like there is room for many!
And let's not forget that hype train. Expectations are sky high, which I feel will hurt the overall score critics hand out.
That's just my opinion though. Here's what the rest of the Lazygamer staff have predicted:
Geoff – 7.5
Darryn – 8.5
Zoe – 7.5
Alessandro – 8.0
Kyle – 8.0
Gavin – 7.0
Marco – 7.0
It's interesting that right off the bat, none of us think that No Man's Sky will score higher than 9. The general consensus is that it's going to be a rather polarising title – some will love and  swear by it, while others condemn it with ridiculously low scores. Will we be right? We'll just have to wait for reviews to roll in this week and next to find out.
No Man's Sky is out on the PlayStation 4 on the 10th of August, and PC on the 12th. Will you be getting it? How do you think it'll score?
Last Updated: August 8, 2016