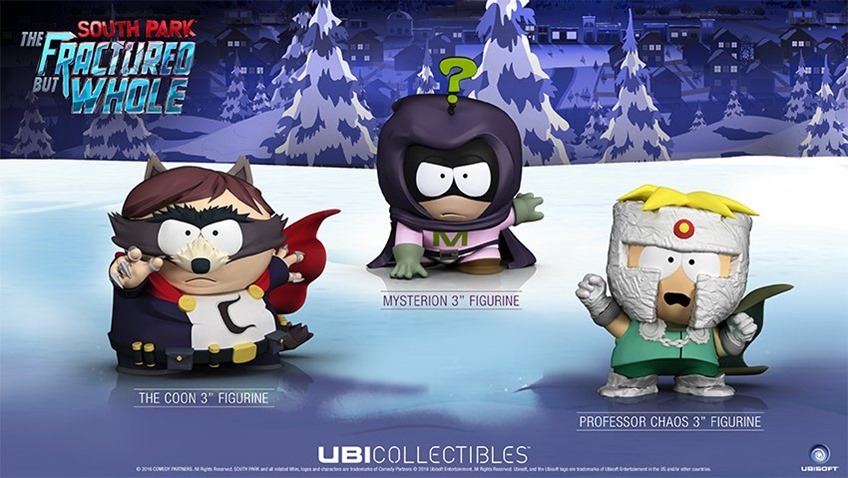 I'm not a fan of South Park at all – nor am I big on collectible bits of plastic, but I have to admit that the 3" collectible figures from the recently-released South Park : The Fractured But Whole are pretty adorable – it's the super alter-egos of Cartman, Kenny and Butters as The Coon, Mysterion and Professor Chaos. And you can win them. Thanks to our friends at Megarom and Ubisoft, we're giving away a collection of the three lovely collectibles – along with a copy of the game (on PS4 or Xbox One), a South Park Lanyard and a Cartman pin. Sweet!
All you have to do to enter is complete the form you'll find on our competition site!
As for the game? We liked it a lot!
"South Park: The Fractured But Whole isn't a massive departure from what came before it. If anything, it's more selective with its shock humour and its core gameplay is designed to be more inviting to newcomers before it throws more complex wrenches and scenarios at you. It's a good game that will appeal to anyone who has a love of violently tolerant rednecks and children caught up in increasingly bizarre situations.

There's a lot to love about South Park: The Fractured But Whole. The action is clever, the humour is even smarter and the quiet little mountain town is still as charmingly familiar as ever when you're not busy farting your way out of danger."
Nice! anyway, you're allowed one entry per unique email address. Competition closes on Sunday 12 November, with the winner announced the following day. Good luck!
Last Updated: November 2, 2017