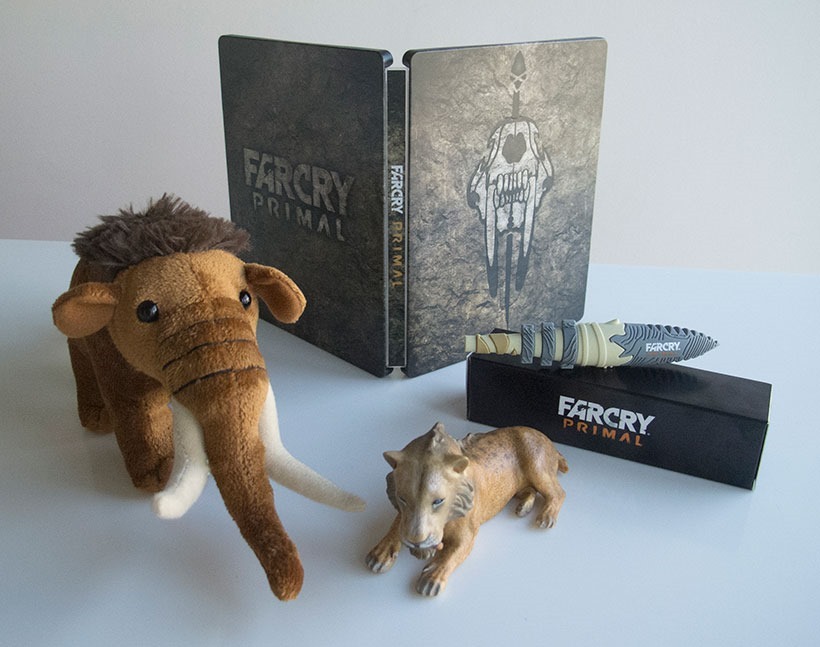 Last week, we gave away the pretty swanky Far Cry Primal hamper, which included some pretty sexy stone-age merchandise – and a copy of the game on console. That's left many of you Pc-toting gamers feeling a little left out.
We're making up for that. We've got a copy of Far Cry Primal with a steelbook case, plus a couple more super cool prehistoric things – but this time, it's for PC gamers.
As you may or may not know, Far Cry Primal is out on Pc today, and it's a pretty good game! It may be missing a few story beats, but its new setting makes great use of Far Cry's established formula.
"Far Cry Primal does little to reinvent the series established formula, sometimes taking it backwards more than its new time period may suggest. It's filled to the brim with the familiar and fun Far Cry trappings, if that's what you want out of the game. It's an enjoyable, gratuitously violent romp in the past."
And here's what you could win:
A copy of the game on PC
A steelbook cover to keep the game in
A woolly mammoth plushie
A sabretooth booblehead…thing
A 4GB USB spear tip
The unbridled jealously of those who don't win
All you need to do, as ever, is fill out this form. There are Terms and conditions: including one entry per valid unique email address, the need to be located within South Africa's borders, and you need to have been born in the last 12 000 years.
[learn_more caption="Ts & Cs"] The prize is not transferable and there is no cash alternative. The promoter's decision is final in all matters and no correspondence will be entered into. The promoter reserves the right (a) to add to or waive any rules on reasonable notice (b) cancel or postpone the promotion at any stage in the event of circumstances beyond its reasonable control; or (c) in its reasonable discretion to substitute a prize of equal or greater value. If a prize remains unclaimed after reasonable efforts have been made to contact the winner the promoter will be entitled to dispose of the prize as it sees fit without any liability to the winner for having done so. The promoter reserves the right to alter, amend or foreclose the promotion without prior notice. Urki still sucks.[/learn_more]
Error: Contact form not found.
Last Updated: March 1, 2016