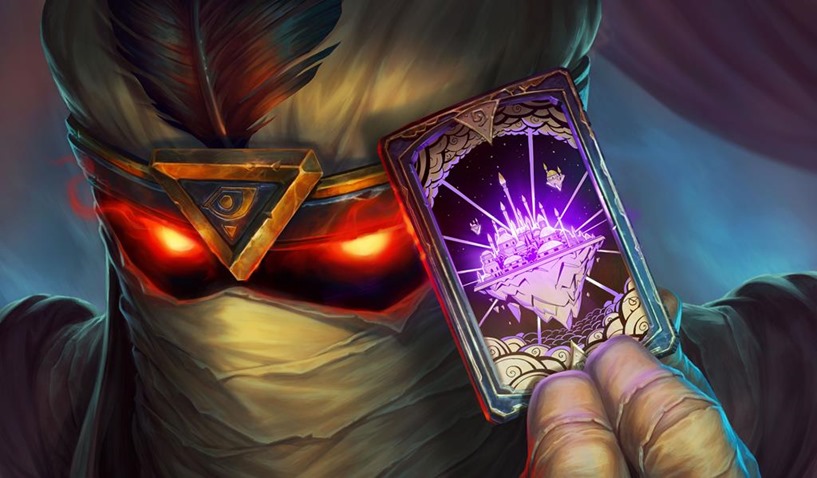 It's the dawn of a new era in Hearthstone: Heroes of WarCraft, and you know what that means: TIME TO GRAB SOME NEW CARDS! There's nothing better than opening up a fresh pack of cards in Blizzard's card-battling title…or is there? Because we think we've stumbled on something that is multiple times better than that.
Being able to open fifty packs of freshly-pressed cards. Thanks to the fine folks over at Blizzard, we've got two digital hampers to give away for the next big expansion in Hearthstone, Rise of Shadows. As a reminder, here's a look at what's to come in the months ahead:
Rise of Shadows will feature 135 new cards to collect
A League of Evil shall be born, featuring the Priest, Rogue, Shaman, Warrior and Warlock classes as they get up to mischief
Each League of EEEEEEEEVIL member has a Scheme Card which will power up the longer you have it in your hand
Heroes on the other hand, will have access to low-stat minions who'll shake up the game board tremendously
As for the heroes who'll be saving the day under the banner of the Defenders of Dalaran? That'll be the Mage, Druid, Hunter and Paladin
Twinspell mechanics will allow you to cast a spell twice if it happens to be marked with the keyword of the day
Even bigger single-player content than ever before, as Rise of Shadows tells the first chapter in a story which will consume all of 2019
Sound good? Want in? Well we're giving you that chance. All you have to do is fill in the form below, and next week we'll draw TWO winners. The contest is open to anyone with a valid European Battle.net account (which includes all of you Hearthstone fans here in South Africa), so get your duelling deck ready and prepare for battle next week when Rise of Shadows launches on April 9.
Last Updated: April 9, 2019