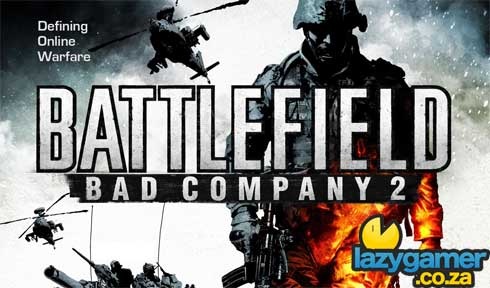 Thanks to the delightful folk over at EA, we have not one, not two – but three copies of the quite awesome 2nd entry in to the Battlefield Bad Company series. In case you don't know, it features some of the best class-based multiplayer action available today, as well as 15 vehicles you can use to obliterate the game's destructible terrain.
It's a game that no fan of shooters should miss – and if you're a PS3 owner who's woefully stuck without a copy, hit the jump to see how you can enter the Battlefield.
It's really quite simple. All you have to do to put yourself in to the draw to win one of 2 copies is send an e-mail to comps@lazygamer.co.za, naming a vehicle you can drive in the game. Multiple answers gets you multiple entries, but be sure to send all your answers in one mail. Collating thousands of entries makes Lazygamer a grumpygamer.
Wait? Didn't I say we had 3 copies of the game to give away? Indeed we do1 The third copy will be given away to a random  Twitter user who tweets a link to this post, using the #Lazygamers hashtag.
Easy enough? I thought so.
Competition closes tomorrow afternoon, so get those entries in – and for more chance of winning, fire up your favourite Twitter client.
Please note that this competition is only available to residents of South Africa.
Last Updated: March 11, 2010