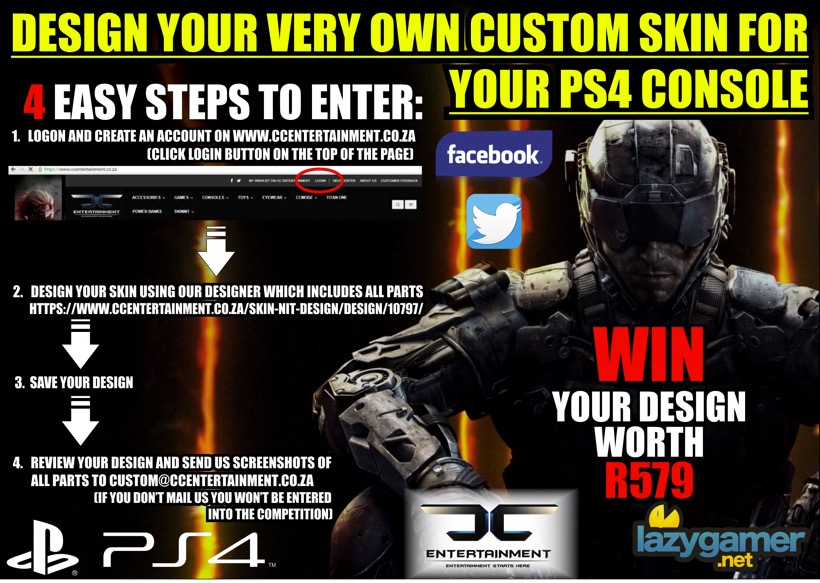 I keep insisting that I don't care what my console looks like. I don't want the white ones because it won't blend with my other electronics, and who needs something other than black, right? Well, sort of. Every time I see the really sexy limited edition consoles, I do get a bit jealous. Instead of being jelly, I should just make a decal of my own, right?
I mean, Matty has a gorgeous MGS V PS4 now, and I'm sure I could replicate that if I really wanted to, minus the typo. Now, our friends over at CC Entertainment are letting you do exactly that. Okay, not exactly that, but sort of. You see, they are having a competition where you get to design your own ideal decal for console and controller, and if your design is considered the best, you could win it!
Want to show your support of your favourite sports team, or maybe get your PS4 to look like a giant Pop Tart? How about remaking the Xbox One to look like Baymax instead of a Betamax? The opportunities are endless. I would show you all my awesome custom designs, but let's face it, you know I don't really have the artist abilities.
So, how do you enter? Head on over the PS4 or Xbox One competition pages, login (so that you can save your designs), tinker with the cool design elements, save your unique decal and then send pictures to the CC Entertainment people. The best design will be made just for you, but even runners up can win prizes, with Kontrol Freek thumb grips, CoD skins and vouchers up for grabs. CC Entertainment will also be at rAge, so you can check out their stand there and see what all the fuss is about.
Now, will someone please make me a custom Mass Effect skin? I would totally buy that because I have no impulse control.
Last Updated: October 2, 2015