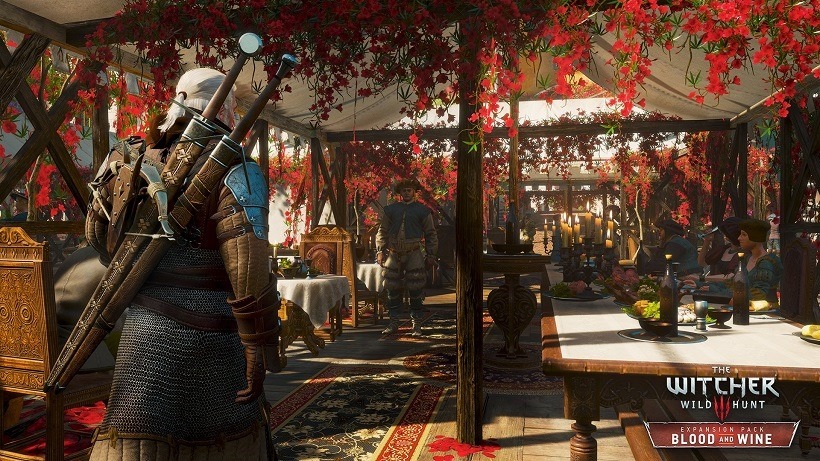 The Witcher 3 was one of the largest games that made its way to shelves last year, and it's just been growing since. The game's first expansion, Heart of Stone, was thankfully the smaller of the two set to release, with the upcoming Wine and Blood set to be more than double the size. Wine and Blood will, in fact, introduce a massive area for you to explore with Geralt. Larger than all of the Skellige Isle put together is seems.
During an interview with Gamestar, CD Projekt Red spoke about the size of The Witcher 3's final expansion and just how much would be on offer to players. The land of Toussaint has already been showcased in some vibrantly beautiful screenshots, but it struggles to show off just how immense the land mass really is. The Skellige Isles were a large distraction near the last third of the core Witcher 3 experience, and Toussaint has been created to be even larger.
That means a lot of land to cover on horseback, but also a lot more to explore, monsters to hunt and side quests to engage with. But building more quests and new lands isn't the only thing CD Projekt Red has been working on. Since the launch of The Witcher 3, they've been working hard to not only get the game running better across all three platforms, but looking better too. Some of these enhancements were already seen in Heart of Stone (with grass foliage getting a big upgrade specifically), and there's more in store with Wine and Blood.
These changes will eventually be applied to the rest of the game too, hopefully around the same time that Wine and Blood launches. There's no release date yet, but CD Projekt Red have said that they are planning to get it out well before E3. Considering that's just over a month away, we might not have to wait much longer at all.
The Witcher 3 is out on PS4, Xbox One and PC. And it's pretty great too.
Last Updated: April 29, 2016