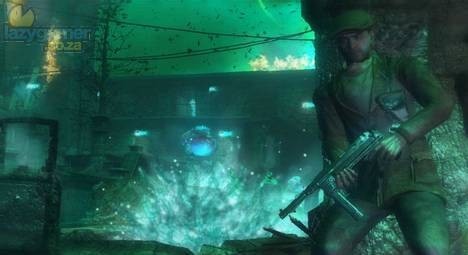 Destructoid are in New York at the moment for Comic Con 2009 where they seem to have stumbled across a contender for Game of the Year 2009.
That's right, Wolfenstein is sounding absolutely fantastic and if Activision pull it off I really do think it will be fighting for the crown come the end of the year.
You really need to click through below to read the full write up but in a nutshell the game stars of as your normal WWII shooter where you get to kill Nazi's and all that good stuff.
Then suddenly a chemical gas leaks out and transforms everything into a whole new game. You get certain powers like the ability to slow down time or to see spiritual apparitions that you can then use to chain electrical shocks together to attack your enemies.
If that all sounds a little far fetched then you're right, it's not based in reality and that little change in the story has put it head and shoulders above most other FPS titles due out this year.
There is also a big daddy like character in the game with a particle cannon, if that isn't worth R600 all by itself I don't know what is.
Source: Destructoid
Last Updated: February 9, 2009