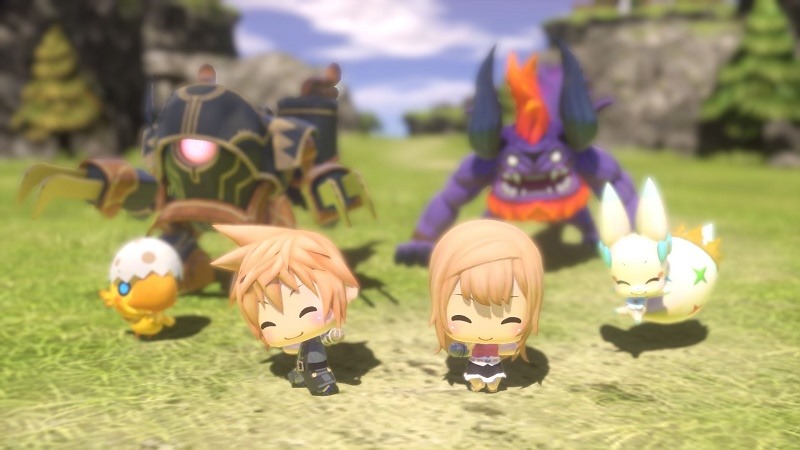 Until a friendly Wookiee brought it to my attention, I had no idea that a game called World of Final Fantasy even existed. Why would I though? All everybody seems to be talking about these days is the next proper instalment in the franchise, Final Fantasy XV.
Look, I'm excited for that game as much as the next person, but how can anybody bring themselves to ignore World of Final Fantasy when it's just so damn cute? Take a look at its latest trailer from Tokyo Game Show, and you'll see exactly what I mean (via Polygon):
Embark on an adventure unlike any before to an all new WORLD OF FINAL FANTASY. With charming, stylized visuals for both the young and the young at heart, players will collect, raise, and battle iconic monsters by stacking them to form adorable yet strategic monster towers. The memorable legends of FINAL FANTASY come to life in this imaginative, colourful world as an epic story fit for the smallest of heroes unfolds.
Recognize anybody? You should, World of Final Fantasy is filled with loads of memorable characters from the entire franchise.
Except, they're all extra freaking adorable and cuddly this time around because they're goddamn Chibis! Did you see that teeny Rydia? Tiny Tifa? Miniscule Snow? Not-at-all-threatening Gilgamesh? Pretty-much-the-same-size-she-was-in-FFIX-Eiko? ALL OF THE LITTLE SUMMONS? SQUEE!
Yeah, I'll definitely be  buying World of Final Fantasy based on its cuteness alone. Thankfully, the wait isn't too long. The game will be out in North America on October 25, and Europe on October 28 for both the PlayStation 4 and PS Vita.
If I had the cash, I'd totally get myself the collector's edition. It includes the game, soundtrack, art book, pop-up book, digital goodies, but most importantly three chibi mini-figures (Cloud, Squall, and Lightning). TAKE MY MONEY SQUARE ENIX!
Last Updated: September 15, 2016