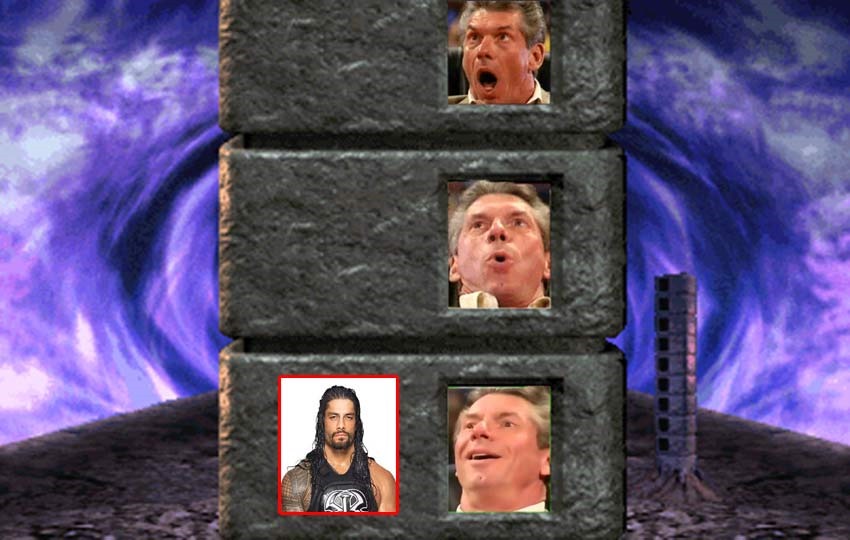 Fighting in the WWE is very much like finding love in the real world. You don't rush into it, you take a certain path towards your…finisher. You find your partner, you court them in the ring, you grab a mic and you wax lyrical about what you're going to do. Then, when all the requirements have been met, you can finally deliver a Spinebuster slam and bask in the afterglow of a hard-fought match.
I often get these two mixed up a well, which would explain why my dating life is a hot mess right now. Anyway, WWE 2K19 is pulling an ol' Mortal Kombat this year, as it introduces Towers to the series. Basically a gauntlet of matches, Towers have their own themes and require players to hit certain milestones during their run. Here's the breakdown on how they work, from Visual Concept's designer Randy Guillote:
Opponents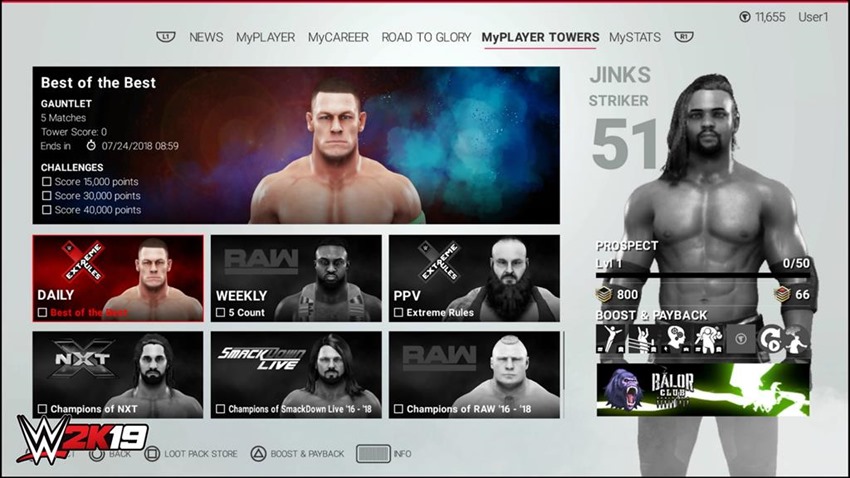 Expect to battle dozens of opponents across the entire WWE roster, from NXT Superstars to current champions … and let's not forget about the WWE Legends!
Tower Types
There are two types of Towers in WWE 2K19 that play differently from one another:
Gauntlet – In a Gauntlet Tower, players need to complete the Gauntlet entirely in one session. Quitting early or losing a match resets progress back to zero;
Steps – In a Steps Tower, players climb their way through a Tower – one match at a time and at their own pace.
Tower Goals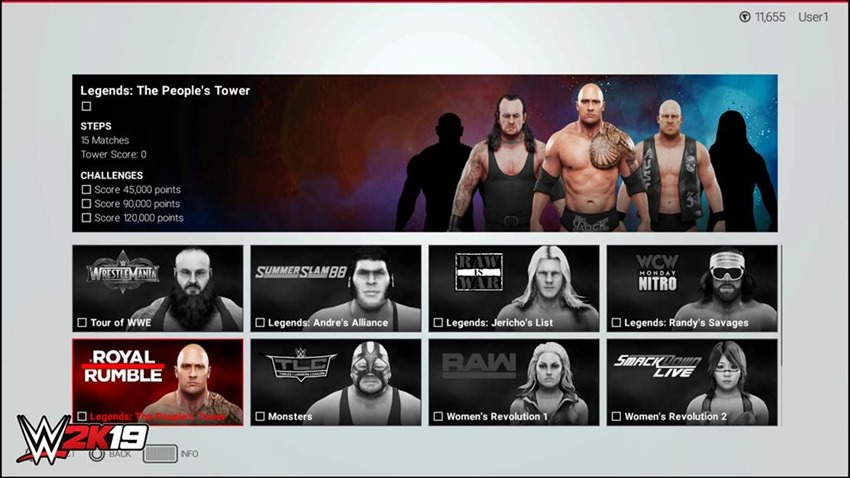 Some Towers feature their own set of goals, including such challenges as reaching a specific score and simply reaching the end of tower.
Stipulations
Some matches add an extra layer of depth in the form of Player and Opponent Buffs. A few examples include starting a match with a finisher or an event starting with health in the red.
Match Types
Towers Mode features many different match types. While there are plenty of normal one-on-one matches, there can be plenty of surprises from match to match. Here are a few match types that players will come across: Steel Cage, Table, Submission, Iron Man, Falls Count Anywhere and more!
2K Towers
In 2K Towers, players choose a WWE Superstar to compete against a wide range of WWE Superstar opponents across a number challenging Towers. Each Tower has a unique theme focused on showcasing the Roster it includes or pays homage to a specific Match Type.
Legends Lore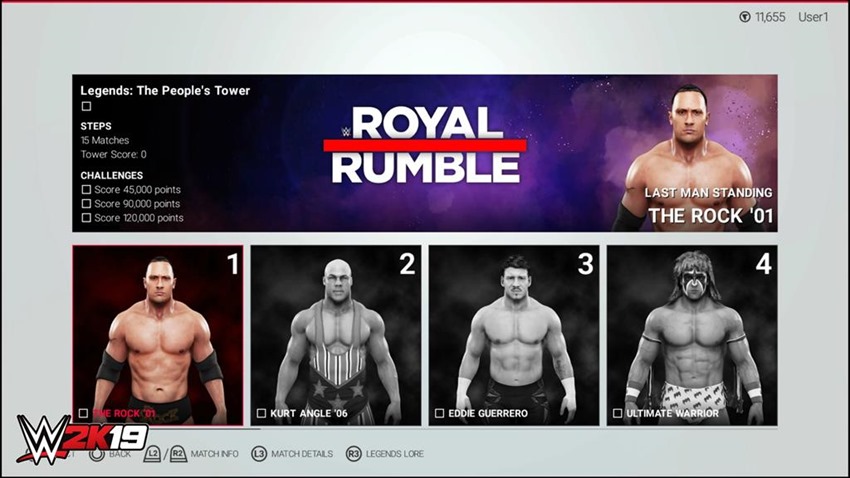 Exclusive to 2K Towers, Legends Lore is a feature that highlights the history and accomplishments of all the undeniable WWE Legends featured in WWE 2K19.
AJ Styles Million Dollar Tower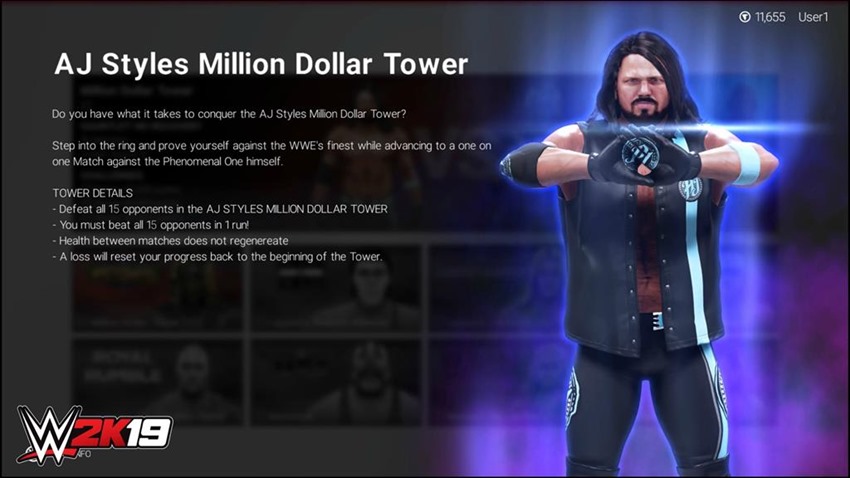 "The Phenomenal One" is featured in his own high profile Tower called the AJ Styles Million Dollar Tower. This Tower is not for the weak of heart and will take extra determination and willpower to conquer it in full. Not only are the opponents in this Tower a collection of some of WWE's finest, but they are also set at higher difficulties. Finally, a player's health does not regenerate in between matches. Those who persevere and manage to make it through this gauntlet will be rewarded handsomely.
MyPLAYER Tower
In MyPLAYER Towers, players will use their MyPLAYERs to battle through Towers crafted to challenge both new and experienced players:
In addition to set of permanent Towers, players will find unique Daily, Weekly and even PPV-based Towers;
Every single day, a new Tower will appear for players to take on, while every week, there will be a new weekly Tower that is a bit longer than the Daily Tower, so be sure to start early;
Stars earned from these Towers count toward all PPV event and Road to Glory qualifications, so it's a good idea to tackle these as often as possible;
Finally, PPV Towers are active alongside WWE's PPV schedule. To qualify for these Towers, players will need to meet a specific star requirement. Completing PPV Towers will unlock exclusive Superstar Parts for MyPLAYERs.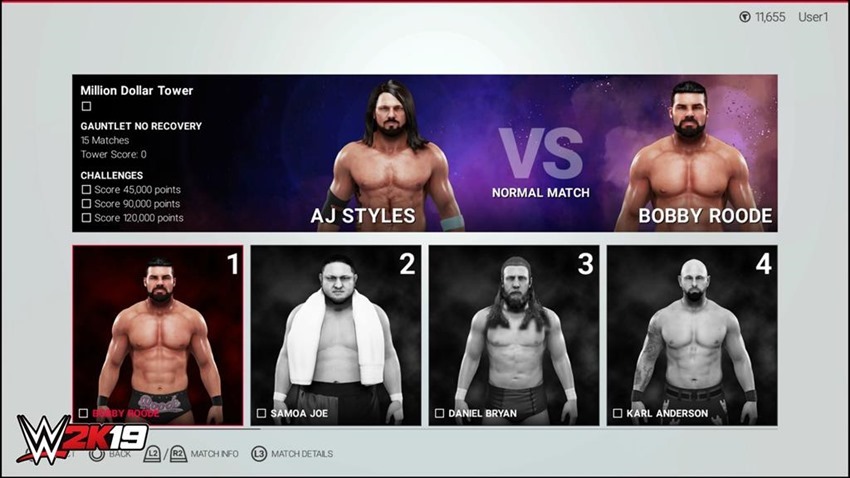 A quickfire way to get into matches that offers a decent challenge? Sounds interesting. Now if WWE 2K19 can address last year's greed-obvious use of loot boxes, haphazard gameplay,a MyCareer mode that was more painfully broken than Christopher Walken's speech patterns, inconsistent visuals, abysmal selection of match types and an audio soundtrack that made me want to drive rusty railroad spikes into my ears after I heard Boston's Smokin' for the 793rd time in a row, it might also be a better game this year.
Last Updated: August 1, 2018