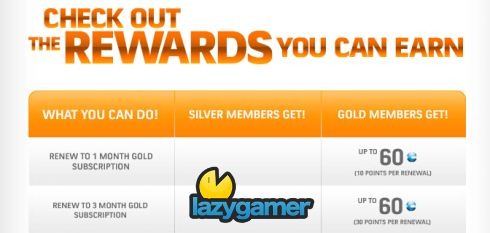 We previously reported on the rumoured Xbox Live Rewards program that Microsoft were sending surveys out about.
Well Microsoft has now confirmed that the rewards program is real and as far as I can tell it will be live sometime in the very near future.
There is nothing inherently wrong with the idea of Microsoft giving us free stuff for using their service and the obvious idea is that they want to ensure we are always Gold members but I can't help but feel a little disappointed with the final offerings.
In a nutshell you can get up to 60 points for renewing a monthly subscription, 60 points for a 3 month sub, 200 points for a 12 month sub, 200 points for subscribing to netflix, 100 points for just making a purchase (1 time bonus), up to 5% of points back if you are a long time Gold member and 100 points for taking part in surveys.
All in all the only really good one is the 5% cash back bonus where you pretty much get a 5% discount on all purchases which is better than a kick in the face.
For more indepth information head on over to the official rewards page.
What's really weird is that there is a second rewards page that doesn't include the 5% cash back option? You can see the second page here
Source: Official Rewards Page
Last Updated: November 4, 2009