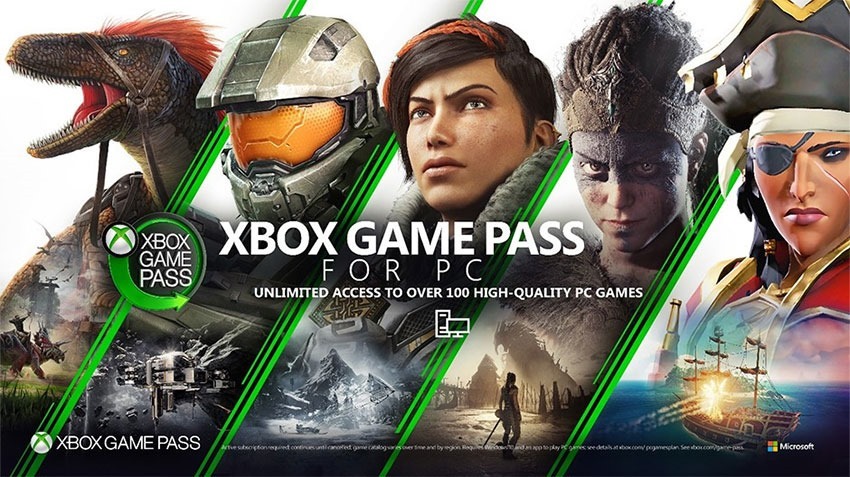 Microsoft's press conference was…well, it was okay. For all the hype and bluster, what Microsoft ended up showing was several rungs down the ladder than we expected. Even their next-gen console reveal was underwhelming, effectively parroting what we already knew about the next generation console coming from Sony. They seem to almost be the same system when it comes to hardware, with focuses on reduced load times, higher refresh rates and resolutions.
Even the games that were announced were either wholly expected, or just not particularly exciting. Other than Keanu. Keanu ruled. If there's one other thing that tickled me though, it was the announcement of Game Pass for PC. Microsoft's Game Pass is the existing service on console that allows subscribers to download and play any game from a library of hundreds of games. It's exceptionally good value, especially because it comes with Microsoft's first party games included on their date of release.
It's now available on PC, but it brings with it many more games – including games like Metro Exodus, Void Bastards and Hollow Knight all in a monthly fee of around R150 per month. If you already have an Xbox and want to bundle it up with Xbox Live and Xbox Game Pass there's an "ultimate" subscription that costs just R199. That's insane value. Even better? It's available right now for a 30-day trial, for just R15. Even better than that? As an introductory offer, it'll add to your existing Xbox Live or Game Pass subscription and convert it to Ultimate. That means if you have 3 years of stacked Xbox Live, you can convert it to 3 years of Game Pass Ultimate right now for just R15. Do it.
As a word of warning though, it looks like the service is a little hobbled in SA. There are only 63 titles available on Game Pass for Pc locally, compared to 109 in the US. With the Xbox One and the Windows store though, you're able to change your regions. We're doing some testing to see if you can change Game Pass for PC regions easily.
You will need to have the Windows 10 May 1903 Update to make use of Game Pass on PC, because everything runs through the new Xbox App on Windows 10. Here's the list of games that are available on Game Pass for Pc right now:
ABZU
ACA NEOGEO METAL SLUG X
Antiquia Lost
ARK: Survival Evolved
Astroneer
Battle Chasers: Nightwar
Battle Chef Brigade Deluxe
Battlefleet Gothic: Armada
Bomber Crew
Bridge Constructor Portal
Broforce
Brothers: a Tale of Two Sons
Book of Demons
Clustertruck
Crackdown 3
Crosscode
Die for Valhalla!
Disneyland Adventures
Everspace
Fez
Football Manager 2019
Full Metal Furies
Gears of War: Ultimate Edition for Windows 10
Gears of War 4
Guacamelee 2
Halo: Spartan Assault
Halo: Spartan Strike
Halo Wars: Definitive Edition
Halo Wars 2: Standard Edition
Hatoful Boyfriend
Hellblade: Senua's Sacrifice
Hello Neighbor
Hollow Knight
Hotline Miami
Imperator: Rome
Into The Breach
Lichtspeer: Double Speer Edition
Forza Horizon 4
MARVEL VS. CAPCOM: INFINITE
Momodora: Reverie Under the Moonlight
Metro Exodus
Mindzone
Moonlighter
MudRunner
Mutant Year Zero: Road to Eden
Neon Chrome
Old Man's Journey
Operencia: The Stolen Sun
Opus Mangum
Ori and the Blind Forest: Definitive Edition
Orwell: Keeping an Eye on You
Oxenfree
Pony Island (Daniel Mullins Games)
ReCore
Rise of Nations: Extended Edition
Rise of the Tomb Raider
Rush: A Disney-Pixar Adventure
Ruiner
Samorost 3
Sea of Thieves: Anniversary Edition
Shenmue I & II
Silence – The Whispered World 2
Sinner for Windows 10
Slay The Spire
Shoot n Merge 2048
Smoke and Sacrifice
Snake Pass
State of Decay 2
Stealth Inc 2
SteamWorld Dig 2
Sunset Overdrive
Super Lucky's Tale
SUPERHOT – Windows 10
Supermarket Shriek
Surviving Mars – First Colony Edition
Riverbond
Tacoma
Titan Quest Anniversary Edition
The Banner Saga
The Banner Saga 2
The Banner Saga 3
The Flame In The Flood
The Gardens Between
The Last Door: Season 2 Collector's Edition
The Messenger
The Stillness of the Wind
The Surge
The Turing Test
Thimbleweed Park
Thumper
Tyranny Gold Edition
Valkyria Chronicles
Vampyr
Void Bastards
Wandersong
Wargroove
Wasteland 2: Director's Cut
West Of Loathing
Wolfenstein II: The New Colossus
We Happy Few
Wizard of Legend
Zoo Tycoon: Ultimate Animal Collection
On top of that, there are other games that will be headed to Game Pass for PC soon including:
Age Of Empires: Definitive Edition
Age Of Empires II: Definitive Edition
Age Of Empires III: Definitive Edition
Battletoads
Bleeding Edge
Gears 5
Gears Tactics
Halo Infinite
Halo: The Master Chief Collection
Microsoft Flight Simulator
Minecraft Dungeons
Ori and the Will of the Wisps
Wasteland 3
For R150 a month? That's madness. At least when the local retail industry crumbles around us,m we'll still be able to play games on the cheap, eh?
Need more E3 in your life?
Check out our E3 2019 portal
Last Updated: June 10, 2019