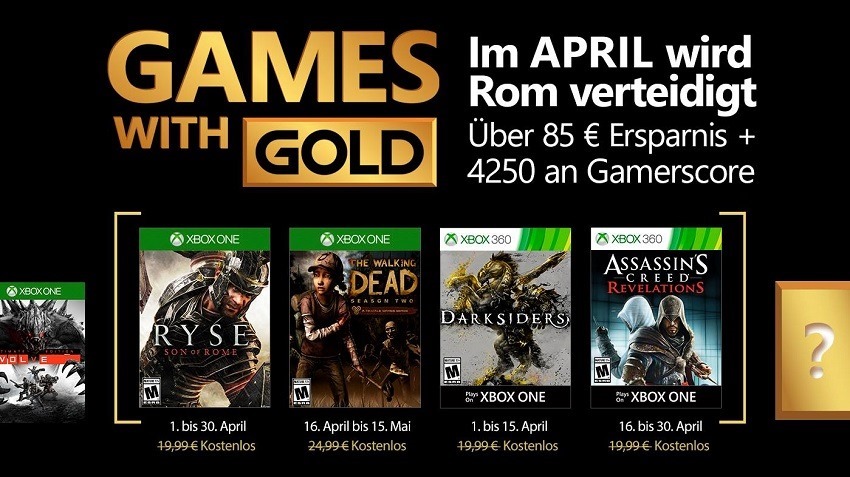 Xbox's Games with Gold program has been meandering in quality lately, with just a few gems peppering the monthly offerings here and there. Usually we'd be getting word of the new batch of titles soon, but Xbox Austria just couldn't keep the secret any longer. The social account on Facebook has leaked the entire line-up early, revealing Ryse: Son of Rome and The Walking Dead: Season 2 has the headline titles for next month.
Ryse: Son of Rome was one of the launch titles for the Xbox One, developed by Crysis studio Crytek. The title was visually stunning (and still is), which only sort of made up for repetitive and otherwise shallow gameplay. It has it's following though, many of which pray for a sequel that is looking increasingly like it'll never come.
The Walking Dead: Season 2 builds on the events of the first title, although this time you're taking control of Celemtine a little time afterwards. Since Telltale is busy with the third season of the title, this is a great jumping on point if you fell off the wagon on the first season.
For Xbox 360, you can expect to get Assassin's Creed: Revelations (the last and arguably weakest of the Ezio trilogy), as well as the original Darksiders. Ryse and Darksiders will lead the charge in the first half of April, while Assassin's Creed and The Walking Dead will be made available half-way through. As always, both Xbox 360 titles are fully compatible with Xbox One thanks to backwards compatibility.
Last Updated: March 23, 2017