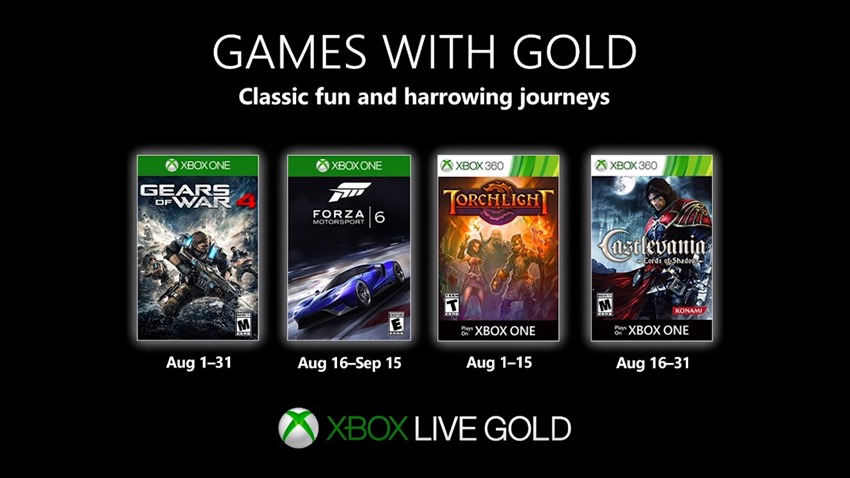 It's the final day of July! August is around the corner, Green Day is preparing for a month-long nap in September nd Q4 is bearing down on our wallets with the fury of an unrelenting tropical storm powered by global warming which is totally fake so please ignore the Arctic polar caps which are currently melting. FAKE NEWS YO.
So what's happening right meow? If you're looking for a digital distraction to take your mind off of the looming apocalypse, then Microsoft has you covered in the August Games With Gold line-up, which is going for the first-party jugular. The month ahead will Gears of War 4 and Forza Motorsport 6 on the premium side, whereas the more retro offerings will include Castlevania: Lords of Shadow and Torchlight.
Here's a quick recap of each game with summaries from past reviews, because I'm a lazy jerk who is currently more interested in a bowl of granola and microwaved milk than I am in actually doing this post properly. Hey, at least I'm honest.
Gears of War 4 – Available entire month of August
Gears of War 4 is a satisfying, if not overly familiar, return to some of the series' best beats. A distinctly dark campaign dishes out welcome surprises and disappointing repeats in equal measure, while its refined Horde mode and thoroughly engaging multiplayer round off a package that any franchise fan should be happy to rev through.
Forza 6 is one of the very best racing games available on any system. If you are a fan of cars and racing then this is absolutely something that you need to play. I still can't decide whether I preferred the classic racing or taking dedicated racing cars around the larger tracks, but it was all incredible, offering the perfect balance between simulation and accessibility.
Lords of Shadow wants a lot more from you than something like Dante's Inferno or that really angry Greek guy. If I could make more of a comparison, I would say that it plays more on the Bayonetta / Ninja Gaiden side of things, just a little slower. This game will not hold your hand, it will not pat you on the back and it will make sure that once you start getting the combat right, it's because you stopped moaning and complaining and just realised that you needed to step up your game.
Torchlight – August 1-15
Lol we didn't review this, we feel awful now.
It's a weird mix when you think about it. While Gears of War 4 and Forza Motorsport 6 are no doubt massive games and the equivalent of Sony dishing out God of War and Gran Turismo as freebies with PS Plus, they're also games which have been readily available on the Xbox Game Pass service for months now. Still, with this month's double duty shift to Xbox Live Games With Gold, those titles will be properly free to own if you grab them anyway and decide to skip the Game Pass subscription some time down the line. Not too shabby at all.
Last Updated: July 31, 2019