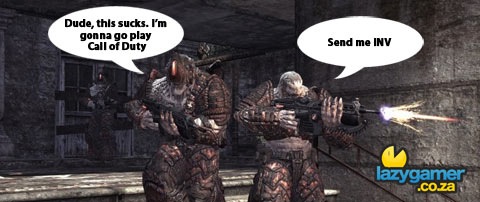 So the new list of Xbox Live Activity has been released and it's no surprise that COD:WAW is still topping the charts.
The list is as follows:
Xbox 360 Top Live Titles (based on Unique User's)
1 Call of Duty: WaW
2 Halo 3
3 Call of Duty 4
4 Gears of War 2
5 Halo Wars Demo
6 GTA IV
7 Left 4 Dead
8 Tom Clancy's H.A.W.X: Rio Demo
9 FIFA 09
10 RESIDENT EVIL 5 Demo
Nothing is profoundly different, although I still find these lists to be quite interesting. The top four games in the charts have stayed exactly the same since our last update of the Xbox Live activity list at the end of January, with the COD series dominating overall, Halo 3 still keeping strong in second place and Gears of War 2 suffering somewhat.
I actually played some Gears of War 2 last night again and to be honest I am really starting to see why it isn't topping the charts in the same way that the original did in the past years.
Epic really needs to do something, because while Gears of War 2 is still a great multiplayer game, it really does lack whatever it was that made the original so incredibly addictive. This is coming from someone who would play an average of four hours of Gears of War every single night, but I put Gears of War 2 in my drive once a week now, if even.
What really amazes me is that even though COD: World at War has stolen so many of COD4's players, COD4 is still beating Gears of War 2. It's quite ridiculous considering that everyone was looking to Gears of War 2 as the new Xbox Live game that would be played solidly but just about everyone for the next 2 years or so and it's being beaten by a game that has lost most of it's players.
This isn't one of those "How to make Gears of War 2 better" rants, I love all of the new additions to the game and I couldn't imagine going back to Gears of War 1, but seriously, Epic have made some really bad decisions with the sequel.
Something that really stands out for me is that the original Gears of War's private matches was a great way to get together with some buddies and talk crap, all the while blowing each other away with some big guns. The big problem that I see with Gears of War 2 is the decisions that Epic made with the voice options. When you are dead, you can speak to other dead players in the lobby. The moment the round ends, you are only able to chat to the people in your own team, making it impossible to have a good laugh with the guy who just took you out, or vice versa.
Once the rounds are over you move to the first lobby. Once you have chosen your settings, the game loads to the second lobby, cutting off the voice chat until loaded. You then pick your maps and what not, and then you carry on into the game. This stop and start mode with the voice can become very frustarting. Heck, there are times when I have gone 15 – 20 mins in a game without exchanging words with certain players once, only because one died and the other one didn't and so on.
It's kind of like a weekly game of poker, you may be getting together to play poker, but the real reasons for the get together is to enjoy some time with your friends and talk a whole bunch of smack. The poker is fun, and maybe some bets are being made, but by removing the social element out of the equation, it's nothing but a game of cards.
There are plenty of issues with Gears of War 2 right now and I think that even Epic are scratching their heads as to why the game isn't the most popular title on Live at the moment. The recent updates changed a few things, but not much and it's becoming more and more apparent that Epic may need to almost overhaul the entire system in order to win back the fans.
For the full list of titles, including arcade and original Xbox titles, you can head over to Major Nelson's blog by clicking here.
Last Updated: February 18, 2009