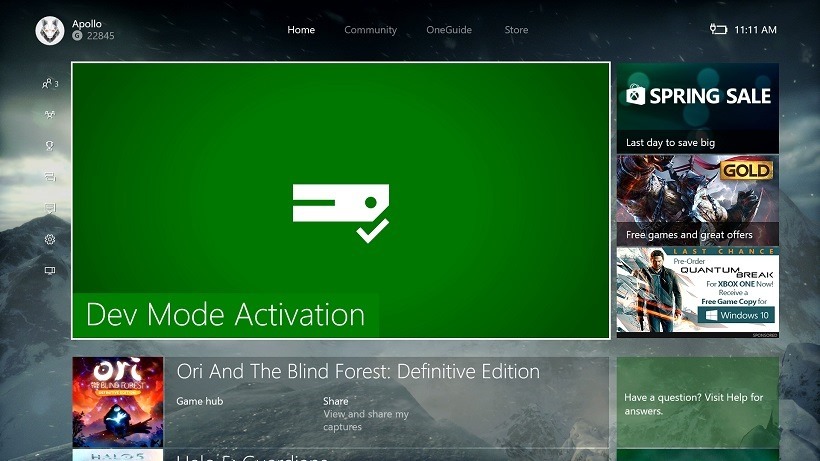 It's been a long time since Microsoft made the promise about all Xbox One consoles being able to function as a development kit (around three years in fact), and it would be unsurprising if most people excited for the feature had long forgotten about it. But Xbox's Phil Spencer hadn't, and he's been pushing for the functionality to launch ever since he got put in charge. It's becoming a reality today to, with Microsoft releasing Dev Mode to lucky Xbox One Preview Programme participants.
Dev Mode will be a reality for all Xbox One owners later this year as Microsoft pushes out their free Windows 10 Anniversary update, and will finally bring one of the most talked about promises concerning the Xbox One full circle. With Dev Mode developers will be able to test Universal Windows Platform Apps and Games directly on their own Xbox One – something which previously forced the purchase and procurement of a development console. Not an easy thing to get your hands on either.
And while the functionality is out in Preview today, Spencer warned curious gamers to maybe leave it to more seasoned developers for the time being. Dev Mode still has a few quirks to it, and could lead to some of your gaming content being deleted if you're not 100% sure about what you're doing.
"Because Dev Mode is in a preview environment today, we recommend only experienced developers engage with Dev Mode at this time."
There is one major, confusing catch though. While Dev Mode will allow you to test and publish UWP straight to the Marketplace, Microsoft isn't allowing the unrestricted publishing of one type of app: games. If you want a game on Xbox One, you'll still need to go through ID@Xbox or Microsoft themselves, which can be a tricky process. This is strange because on Windows Desktops this isn't the case, with Microsoft actually encouraging developers to create UWP. Just not for their one product that is actually built to play them.
It's definitely a plan to keep the Xbox Store safe from a flood of games without curation, but it's a curious move nonetheless. With Dev Mode Microsoft is now encouraging developers to make Windows Universal Apps for the console, but not saying that games are ok. This could change in the future with some tighter restrictions, but for now it's a glaring omission.
Dev Mode also runs separately to the Xbox One's main function of playing games, meaning you won't be able to hop in and out of your currently paused title once you turn it on. For developers though (especially indie ones), this is huge news. Having the power of a development kit at the tips of your fingers makes development for a specific platform so much easier, and it's not hard to see how Microsoft will attract more talent with this move.
It's out for everyone later this year.
Last Updated: March 31, 2016