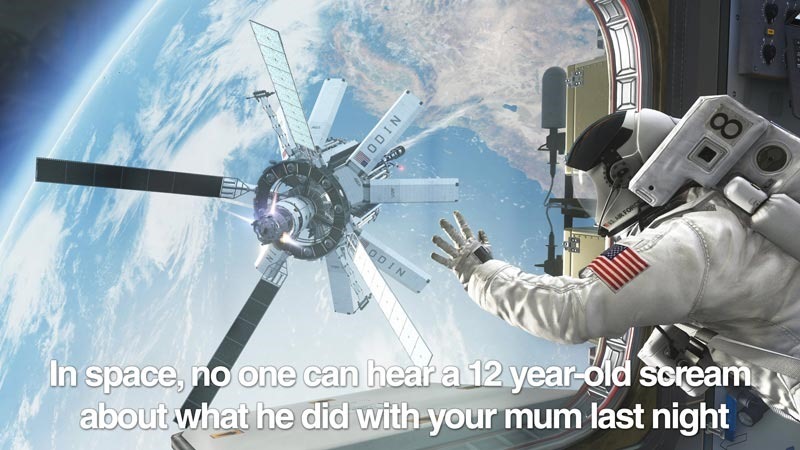 The perpetually popular Call of Duty now has a three-year development cycle, with duties being tagged in between Treyarch, Sledgehammer and Infinity Ward. This year, if you're interested, will see the release of Infinity Ward's first Call of Duty to be given the full three-year cycle.
Their last game, Call of Duty: Ghost, was (in my personal, unfounded opinion) the worst Call of Duty game in ages – and not even a likeable, digitally created dog could save it from being a middling entry. If you'll recall, it started off in space – and that may have been a portent of things to come.
According to the internet, this year's Call of Duty will be set in space. In a thread about the possibility of backwards compatible versions Call of Duty 4: Modern Warfare and Modern Warfare 2 being given to Xbox One owners as a pre-order incentive for the new game, serial industry leaker shinobi602 suggested that this year's Call of Duty would be set in the very far future, and have a full on sci-fi bent – which makes Call of Duty sound a little more like Halo.
This on its own wouldn't mean much, but it aligns with reports that Eurogamer has heard from its own sources.
For a long time, I've hoped that Call of Duty would return to its roots and tackle some of the lesser-known historical conflicts, but I don't think it would really resonate with the game's current fans. Call of Duty's explosive popularity really began with Modern Warfare, and since then it's largely taken on a futuristic tone, with each game employing more and more experimental future military technology.
I don't think the game's current multiplayer-centric audience would appreciate their double-jumps, 360 degree no-scope sniper shots, boosting and exosuits going away. Setting the game in space does however, clash a little with Activision's other big space shooter, Destiny.
Last Updated: March 29, 2016