YouTube is a fantastic platform. At its best, it's entertainment in bite-sized forms tailored towards categories that you find relevant. At its very worst, it's a hotbed for racists and idiots to attempt to get their points across. Most of the time, such barrel-scraping hatred sits all alone in the dark corner of the internet, lucky to earn tens of hits over several years.
But lately, more popular YouTubers have been making their opinions heard and realising that while the right to speak may be free, the consequences certainly aren't. Just weeks after PewDiePie's terrible attempt at "humour" backfired on him, popular video person Jon "JonTron" Jafari decided to make some thoughts of his own heard in regards to race and immigration that were downright baffling and hateful. Gizmodo happens to have a solid round-up of his stupidity right here.
Jafari followed up on this with a video where he attempted to clarify his views, but the damage was done and his credibility took a serious hit. A knock to his rep that included his voice acting being removed from upcoming platformer Yooka-Laylee. "We recently became aware of comments made by voice artist JonTron after development on Yooka-Laylee had been completed," developer Playtonic said to GamesIndustry.biz.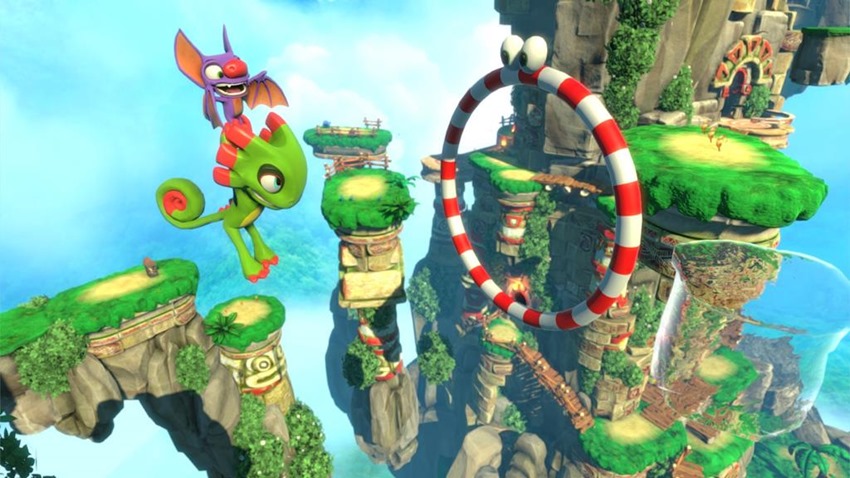 Playtonic weren't holding back when they further detailed the reasons why they'd cut JonTron's voiceover work, as they want to distance themselves and Yookah-Laylee as far away as possible from his racist viewpoints:
JonTron is a talented video presenter who we were initially, two years ago, happy to include as a voice contributor in our game," they said. "However, in light of his recent personal viewpoints we have made the decision to remove JonTron's inclusion in the game via a forthcoming content update.
We would like to make absolutely clear that we do not endorse or support JonTron's personal viewpoints and that, as an external fan contributor, he does not represent Playtonic in any capacity. Playtonic is a studio that celebrates diversity in all forms and strives to make games that everyone can enjoy. As such, we deeply regret any implied association that could make players feel anything but 100% comfortable in our game worlds, or distract from the incredible goodwill and love shown by our fans and Kickstarter backers.
And I don't blame them. I believe in free speech, I truly do. I do however believe that such freedom comes with responsibility – to actually think before you speak. You've got the freedom, much like most people fortunate enough in other democracies have. But they've also got the freedom to ignore your rambling or straight-up criticise what you've just said. That's how free speech really works.
Playtonic is more than within their rights to excise JonTron from their product, as there's most likely a work-for-hire contract that was signed by the two parties and eventually resulted in this professional association being dissolved. Actions have consequences man. Actions have consequences.
Last Updated: March 24, 2017