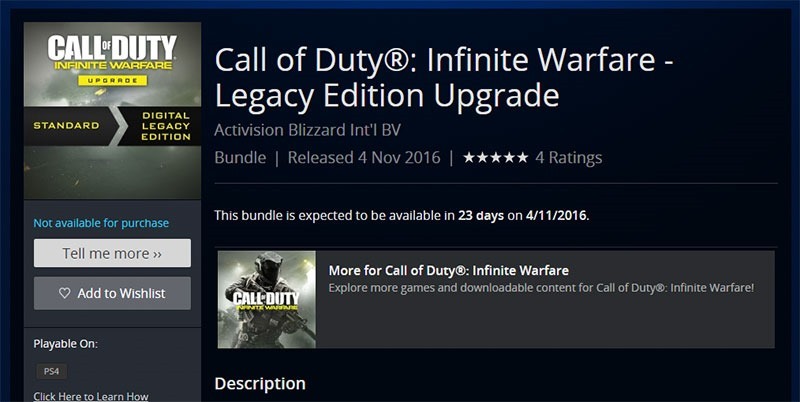 Call of Duty: Infinite Warfare is coming early next month. While it may not be for you, Call of Duty is an immeasurably popular series. As is usual, there are different versions of the game that'll be available for fans to buy.
The standard edition contains, of course, the base game, its multiplayer and that very silly-looking space zombies game. It is, however, the Legacy edition that most series fans will be eyeing. That's the cheapest version of the game that also comes with the newly remastered Modern Warfare (arguably still the best game in the whole series).
Lastly, there's the Digital Deluxe edition – which also comes with the game's season pass. Deciding which one to buy is a tricky proposition, especially if you happen to be cash strapped. Activision;s made it a little easier for you.
No, they haven't dropped the price or anything – don't be daft. What they have done, however, is made it so that you can upgrade editions. You can jump from the standard edition to the Legacy Edition or straight to the Deluxe one. You can also jump from Legacy to Deluxe – all, obviously, at a cost. Because I don't own Infinite Warfare right now, I'm unable to see what those costs might be. Still, expect it to be a lot, because the Digital Deluxe version of Infinite Warfare costs an eye-watering R1899. That, it has to be said, is still less than Battlefield 1's Ultimate Edition on PS4 costs.
Anyway.
Here's what one such description from the Euro PlayStation store reads, as spotted by Keengamer.
"Make the best digital sale for the Call of Duty®: Infinite Warfare – Upgrade from Standard to Deluxe!

Upgrade to Call of Duty®: Infinite Warfare Digital Deluxe Edition and get access to Call of Duty®: Modern Warfare® Remastered * and Call of Duty: Warfare Infinite Season Pass ** including 30 days earlier access to the Modern Warfare campaign for one great price! Access begins on 10/05/2016.

Play from 04/11/2016 midnight local time.

*Call of Duty: Modern Warfare Remastered contains the campaign and 10 multiplayer maps from Call of Duty® 4: Modern Warfare. For more information on www.callofduty.com/MWR_FAQ."
This is also, I suppose, a nice way to get around the wallet size restrictions that currently stop people from buying the Legacy and Digital Deluxe Editions on PSN right now. Interestingly, the same upgrade paths don't seem to be available on the Xbox One store right now. Whether that's a product of just timing, or because of PlayStation's Call of Duty co-marketing remains to be seen.
Last Updated: October 12, 2016