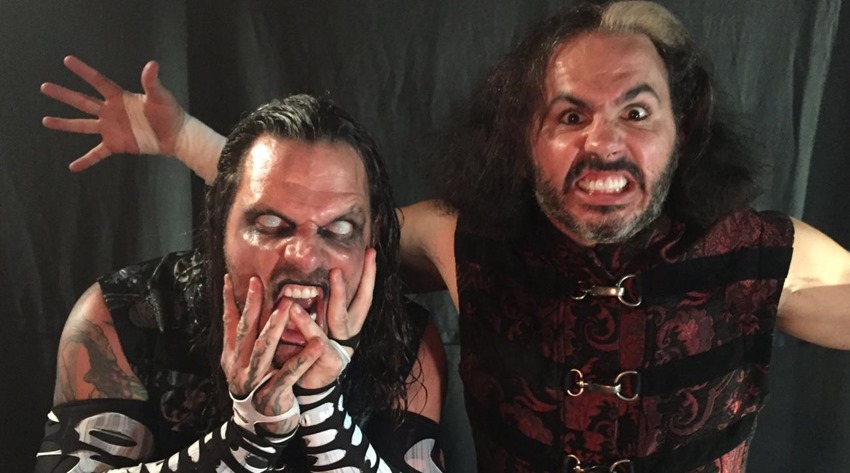 When it comes to scratching out some extra coin, 2K Games is da master. NBA 2K18 may be a prime example of their penny-pinching ways, with many an outlet bemoaning the Virtual Currency economy that attempts to masquerade as anything but a series of exploitative microtransactions. It's a system of earning some extra cash that would never ever work in the WWE 2K games however, as half the charm of that series lies in its custom creation tools.
Could you imagine being hit with a pop-up window urging you to drop cash on a new hairstyle in WWE 2K18? That would be more revolting than Isaac Yankem's teeth. While you probably won't be urged to spend a currency of McMahon's Slams on alternative faces in WWE 2K18, the usual season pass content will make its presence known. And yes, there is Virtual Currencypresent as well. I'm really really hoping that they don't cripple the latest wrasslin' game along the same lines as NBA 2K18.
Much like last year's extra content that sold extra movesets and personalities, the WWE 2K18 season pass offers pretty much the exact same bonuses. Which includes keeping the recently returned extreme team of the Hardy Boyz off the main roster and behind a paygate. Is that WONDERFUL? No, not really. Not really at all. Here's what $30 gets you: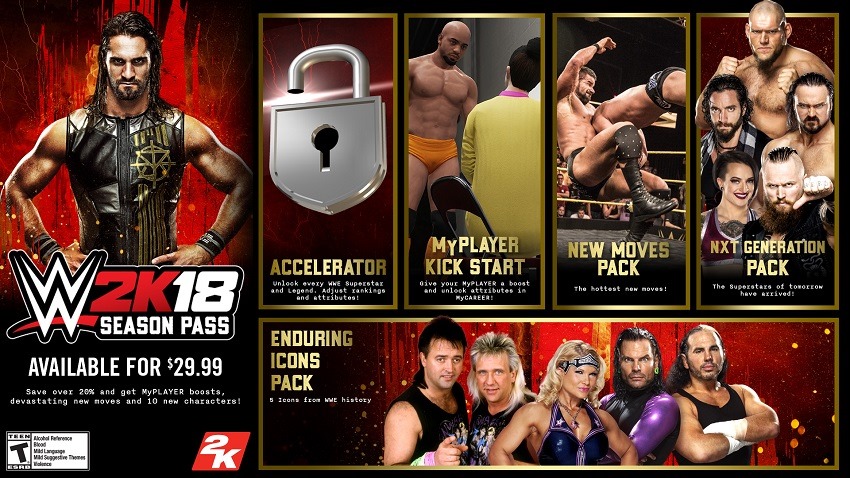 Accelerator
Players will gain access to all unlockable content available at launch in the game's VC Purchasable section (excluding downloadable content);
Players can also decide the overall rankings and attribute levels for all playable characters throughout the life of the product;
The Accelerator will be available for €4.99
Enduring Icons Pack
Playable WWE Superstars: The Hardy Boyz;
Playable WWE Hall of Famers: Beth Phoenix and The Rock 'n' Roll Express;
The Enduring Icons Pack will be available
MyPlayer Kick Start
Players will gain access to unlock and boost MyPlayer ratings and attributes made available at launch as part of the game's MyCareer mode;
Players can also unlock all clothing made available at launch that provides attribute boosts in MyCareer;
MyPlayer Kick Start will be available
New Moves Pack
Explore a wide variety of new in-game moves, including the Tie Breaker (made popular by WWE Superstar Tye Dillinger); the Crash Landing (made popular by NXT Superstar Kassius Ohno); the Pumphandle Death Valley Driver (made popular by NXT Superstar Akam); and the Swinging Sleeper Slam (made popular by WWE Hall of Famer Diamond Dallas Page).
The New Moves Pack will be available
NXT Generation Pack
Playable WWE and NXT Superstars: Aleister Black, Drew McIntyre, Elias, Lars Sullivan and Ruby Riot;
The NXT Generation Pack will be available
Each pack will also be available separately, should you choose to only want certain content. Once again, I'll be lacing up my frilly boots to hit the ring come October 17, because it wouldn't be a proper review without Bad News Bonthuys snapping into a Slim Jim. Oooooooohhhhh yeeeeaaaaah.
Last Updated: September 28, 2017