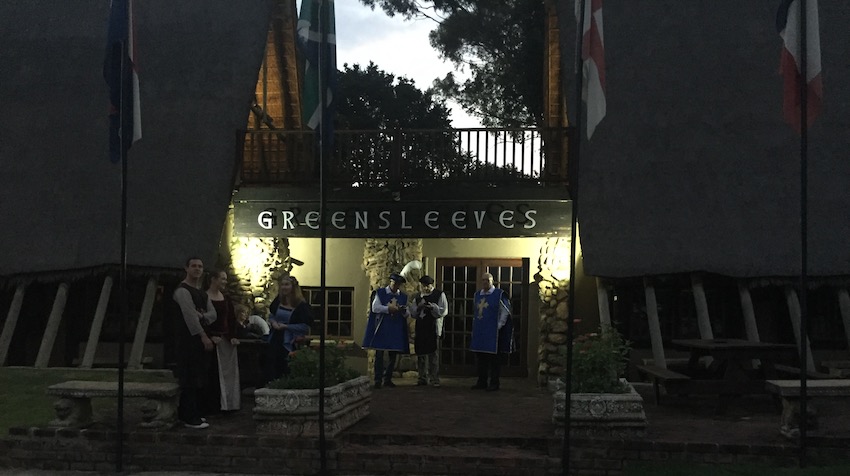 The sun was setting as we drove down the narrow road towards another time. I was heading to Greensleeves ,  medieval function venue. To be perfectly honest, I was more than a little hesitant about the whole thing. I love medieval history, and I was excited to wear a dress that would remind me of my goth days, but the whole prospect of a medieval feast? What if the food wasn't great? What if it wasn't entertaining? I wasn't 100% sold on the idea?  can happily report that it really is a fun evening out, and I'd recommend it to most of you.
Upon arrival, we went and rented our costumes. The outfits are clean and of decent quality with a range of sizes so even the trimmest or least trim of your group will find something comfortable. Of course costume hire is optional, although with most people dressing up, you might feel out of place or uncomfortable if you don't don the unique attire. Thereafter, it's down the path to the actual banquet hall.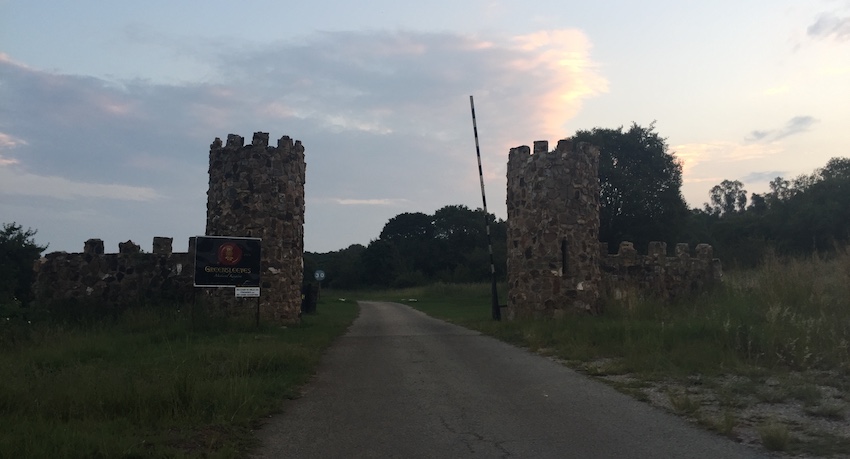 All the lords and ladies sit at row of tables and benches. Those at the King's table get high-backed chairs, but most of the hall will sit at the tables with padded benches. When you arrive, there's a glass of mead at each seat made with raw honey. Groups will need to book the same meal as it is served on large platters per table. Our group booked the King's Feast, which is the middle of the road option. It includes all the live entertainment, the goblet of mead, flat breads with chicken liver pate and hummus, roasted carrot and ginger soup served with home baked bread, a chargrilled sirloin of beef and spit roasted chicken served with roasted veggies as well as apple crumble and ice cream. Those who opt for the Baron's Feast forgo the pate, sirloin and apple crumble, while those who opt for the Emperor's Feast get additional roasted lamb with their main course.
I'll get back to the food in a moment. What is most interesting about dining at Greensleeves is the medieval stuff, which is done so very well. At each place setting is fist-sized stick. As explained by the master of ceremonies, this is pounded on the table instead of clapping. Then there is the matter of cutlery – forks were not a thing in medieval times. Instead, people ate with their hands. So there were numerous finger bowls on the table to keep yourself clean, but mostly you could dig into the food with your hands, using bread to sop up soup and generally just letting go of some modern inhibitions. Spoons are available for dessert, so at least you can dig into your ice cream easily, but for the rest it's just a matter of literally breaking bread with your friends/family and diving into the food.
Just as forks weren't available in those times, spices were also hard to come by. As such, salt and pepper aren't placed on each table. Instead, a box of salt is given to the King and to one other person in the hall (I don't want to ruin the surprise). If you require salt during your meal, it's simply a matter of sending a lady (or wench) to ask for it.
Between the courses, there is all manner of entertainment, from a fun explanation of the "rules" by the master of ceremonies, some musical performances from a troubadour and even some dancing from trouble makers in the hall. Despite the evening running very long (we finished dessert around 11 and only got home around midnight), it passes quickly as it really is a fun evening.
It's important to note that costume hire and drinks aren't included in the price. As such, while it's a nice evening out, you'll be paying extra for your craft beer, bottle of wine or whatever else you choose to imbibe. And it's not a cheap experience to start – The Baron's feast costs between R330-395 depending on the time of year you book, with the rest of the menus going up by a further R100-150 per person. It's important not to think of this as the cost of just your three course meal; most of that money is probably going to the cost of entertainment and ambiance rather than just that roast chicken and flat breads. As such, it can be quite a pricey excursion, and not one I'd recommend for something other than a special occasion or year-end function. That said, apparently you can also go with families for a Sunday lunch if you're so inclined, and that is in the form of a much more reasonably priced picnic basket.
Atmosphere: Excellent. Truly a fun vibe and exciting evening out.
Service: Excellent. The "wenches" work are to serve quickly. They fit in with the medieval atmosphere and are very nice and attentive.
Food: Very good. The flat bread and hummus were divine – I could have just eaten that all evening. The roasted chicken was also great and the dessert was lovely. I was just a bit disappointed with the beef which I found to be rather dry.
Notes: This is definitely an adult feast. The jokes and entertainment are often of an adult nature that you might not want to explain to your kids. Also, it's a late night out, so don't go with the expectation of leaving early as you will miss out on not just entertainment, but even most of the food (main course was only served around 10pm).
Contact Details
Address:
Hekpoort Road, Sterkfontein, Krugersdorp, R563, South Africa
GPS Coordinates:
S 26°01.22767′, E 27°43.15400′
Tel:
083 229 5677 or 082 602 2958
Email:
info@greensleeves.co.za
Last Updated: March 7, 2017