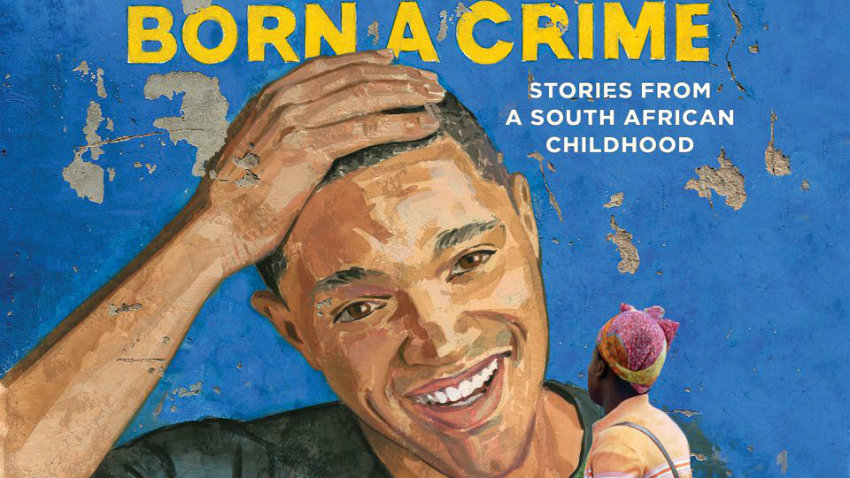 Trevor Noah is a South African success story. Growing up in Joburg, going on to find success as a comedian in South Africa, before going on tour and eventually landing the amazing job as host of The Daily Show in New York. I've enjoyed his comedy over the years, and I think he is finding his stride on The Daily Show. But I wasn't convinced that I would enjoy his book – I figured it would just be more comedy, or a really heavy-handed look at apartheid. I couldn't have been more wrong; I caved and read the book after seeing so many recommendations, and I hope you do the same after reading this one.
Born a Crime is a collection of short vignettes from Noah's past. From a story about the three churches his mom would drag him to each Sunday, to a reflection on his time hustling in the township, each chapter looks at a different aspect of his life, although of course it all weaves together. Thanks to the diverse chapters, it never feels plodding – it's easy to pick up and read when you have time, but the pacing will keep you wanting to come back and find out more.
Interspersed between anecdotes about his childhood, Noah reflects on some of the laws or norms that were in place when he was growing up. It isn't beating the reader over the head with the obvious "Apartheid was bad" analysis, but rather pointing out just how nonsensical institutionalized racism could be. If Chinese people were classified as black but Japanese people were classified as white, just imagine how it could play out if an Asian person were seen sitting on a bench in Bloemfontein; the police officer could try to get them to move along, calling them a slur for a Chinese person, only to need to apologize when they turned out to be Japanese.
What I found the most intriguing and enjoyable in the book was Noah's unflinching honestly. He doesn't paint his experiences as being better or worse than they were; it feels like he's just telling it like he is. Sometimes, he comes off as a real trouble maker, but in that adorable way that kids sound when you didn't have to be around them when they were naughty. Sometimes he idolizes his mom, and then in the next moment wonders at how she can think or believe what she does. It's the truth of the human experience, and that honesty is the opening for a ton of humor. The stories aren't told as jokes, and there is plenty of tragedy mixed in, but it's the bizarre and hilarious events that can make you laugh and cry in the same chapter.
With the depth and breadth of tragedy in the book, one might expect a more self-pitying tone. However, the resilience and humor that is apparent throughout makes it an enlightening and fun read without ever getting bogged down in guilt or blame. What I found most interesting was when I watched this interview about the book after finishing it – Noah explains that when he sat down to write the book he thought that he would be the hero of the story, and it was only after writing it that he realized the hero of his book is really his mother. Her story, her ability to give him the best chance at life and try to relieve him from what she called the "Black Tax" (where black people can never get ahead because they are always having to send money home to try and get their relatives "up to zero") is inspirational to any person, particularly anyone who is a parent.
You don't really need to care that it's Trevor Noah's story to appreciate the book, either. I thought that it would only be interesting in the context of who he is, of understanding his background better. Instead, the book is so well written and so intriguing as a means of highlighting a version of South Africa that I've never been able to see. It's a page-turner of a book, even if you've never seen Noah's comedy or tuned in to see him on The Daily Show.
Born A Crime is available at your favorite retailer for R200, or you can also get it as an ebook. At 288 pages long, it's long enough to be fulfilling without becoming daunting to pick up and enjoy. If you are curious about Trevor Noah, or simply want to have an interesting look at what it was like growing up mixed race in South Africa during Apartheid, Born a Crime is easy to recommend.
Last Updated: January 17, 2017