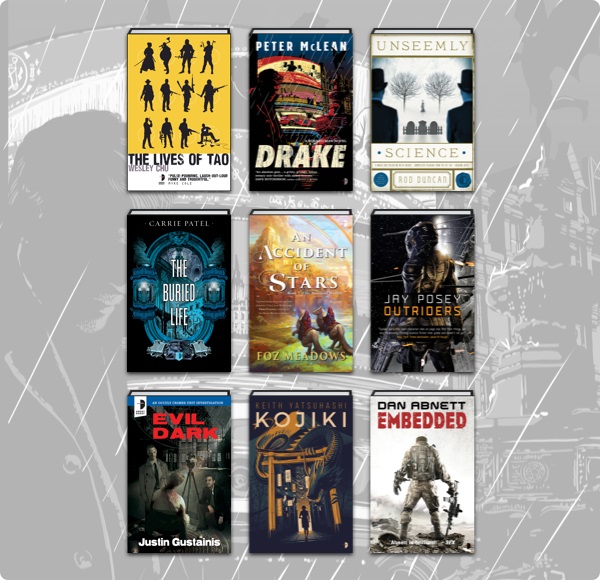 Angry Robot is a UK-based publisher which began operating in 2009 with the mission to "publish the best in brand new genre fiction – SF, F and WTF?!" They've teamed up with Humble Bundle to bring us the SF & Fantasy Bundle which covers a wide array of genre writing. Twenty ebooks covering military sci-fi, urban fantasy, alt-history, post-apocalyptic, and more are represented in what I think looks like a damn good selection of entertaining reading material.
The ebooks are DRM-free and come in .pdf, .epub, and .mobi formats for your reading device of choice. As is the norm the bundle consists of three tiers, and the first $1 tier includes the following titles:
Binary Storm – Christopher Hinz
Occult Crimes Unit: Hard Spell – Justin Gustainis
The Burned Man: Drake – Peter McLean
Kojiki – Keith Yatsuhashi
The Bullet-Catcher's Daughter – Rod Duncan
Steal the Sky – Megan E. O'Keefe
Chip in further $7, making $8 in total for the maths-challenged among us, will unlock the second tier which includes the following titles in addition to those above:
The Buried Life – Carrie Patel
Stolen Songbird – Danielle L. Jensen
Occult Crimes Unit: Evil Dark – Justin Gustainis
Blades of the Old Empire – Anna Kashina
The Singular and Extraordinary Tale of Mirror and Goliath – Ishbelle Bee
Unseemly Science – Rod Duncan
Slights – Kaaron Warren
United States of Japan – Peter Tieryas
Spending a minimum of $15 (you can spend more if you're feeling charitable) will unlock the entire bundle and open up even more titles for your reading pleasure:
Occult Crimes Unit: Known Devil – Justin Gustainis
Outriders – Jay Posey
The Custodian of Marvels – Rod Duncan
The Lives of Tao – Wesley Chu
An Accident of Stars – Foz Meadows
Embedded – Dan Abnett
They've saved the best for last, literally. If you enjoy action-packed military sci-fi look no further than Dan Abnett, whose Warhammer 40k Gaunt's Ghosts series is among my favourites in the genre. I haven't read works by any of the other authors here, but it looks like an intriguing mix of genre writing. I'd quite happily spend $15 on Abnett's book alone, so getting another nineteen for "free" seems like a steal to me.
What do you think?
Last Updated: February 15, 2018