Dubai, a city known for its opulence and grandeur, boasts a collection of luxurious beachfront properties that redefine coastal living. From stunning views of the Arabian Gulf to impeccable amenities and services, these properties epitomize the epitome of extravagant living. These opulent properties boast meticulous attention to detail, incorporating state-of-the-art technology, premium materials, and exquisite craftsmanship. Every aspect, from the architectural design to the interior finishes, reflects a commitment to creating an environment that exudes elegance and refinement.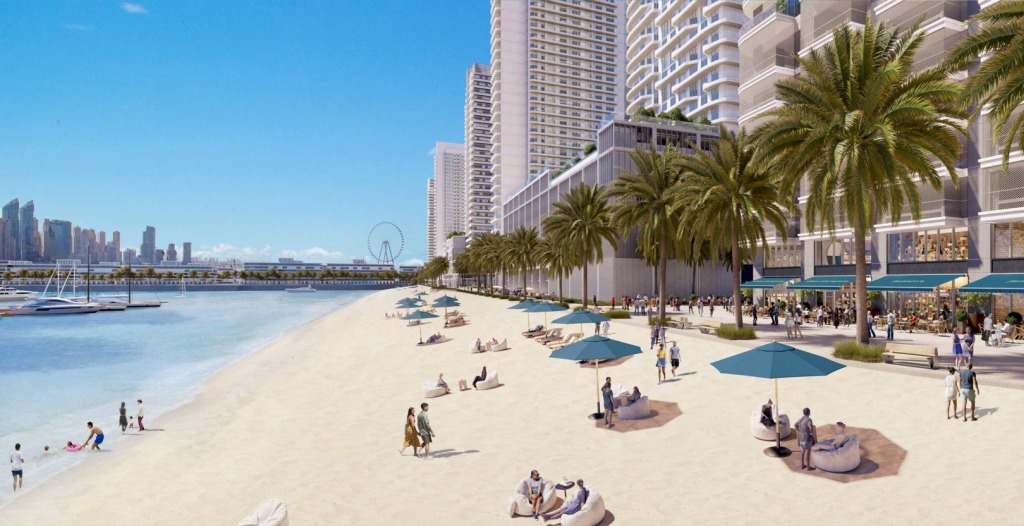 In addition to the luxurious residences themselves, these beachfront properties offer an array of amenities and services that cater to residents' every need. From concierge services and private dining to spa and wellness facilities, residents can indulge in a lifestyle of convenience and relaxation. Whether unwinding by the pool, enjoying a rejuvenating spa treatment, or taking a leisurely stroll along the beach, every moment spent within these properties is a testament to the pursuit of ultimate luxury.
Moreover, the locations of these properties contribute to their allure. Palm Jumeirah, a man-made archipelago shaped like a palm tree, offers a picturesque setting with breath-taking views of the Arabian Gulf. Residents can wake up to the soothing sound of waves, bask in the golden rays of the sun, and experience the beauty of nature at their doorstep. The exclusive Jumeirah Bay Island and Emaar Beachfront also provide a serene and idyllic environment, where residents can escape the hustle and bustle of the city and immerse themselves in a world of tranquillity.
It is important to note that these beachfront properties are not just residences; they are an investment in an exceptional lifestyle. Dubai's real estate market is renowned for its stability and lucrative opportunities, making these properties not only luxurious homes but also valuable assets that promise long-term returns. In this article, we will explore the three best beachfront properties in Dubai, each offering a unique blend of elegance, exclusivity, and breath-taking surroundings.
BeachGate by Address in Palm Jumeirah
Nestled within the iconic Palm Jumeirah, BeachGate by Address is a luxurious beachfront property that seamlessly combines the best of city living with the tranquillity of the sea. Comprising branded 1, 2, 3, and 4-bedroom apartments, 4-bedroom penthouses, and duplex penthouses, BeachGate by Address offers a diverse range of living spaces to suit every lifestyle. Here, the city meets the sea, creating a harmonious environment where residents can enjoy the ultimate beachfront experience. Designed to complement your dream beach lifestyle, BeachGate by Address exudes a tasteful blend of intuitive design and luxurious comfort. Every detail has been carefully considered to ensure a seamless living experience.
Palace Residences in Dubai Creek Harbour
Nestled along the promenade of Creek Island Dubai, Palace Dubai Creek Harbour is an architectural gem that boasts panoramic views of Dubai Creek. This contemporary masterpiece comprises a single 46-storey tower that gracefully rises above the Creek Canal and Creek Beach. Palace Residences Dubai Creek Harbour ensures a wealth of exclusive amenities, both in the residential towers and the hotel, all which residents have access to. These amenities include an infinity edge swimming pool that provides a seamless connection with the water, a signature bar and grill for exquisite dining experiences, and a fully equipped gym and spa for residents to indulge in wellness activities.
Surrounded by natural beauty, it is located approximately 2.5km from the enchanting mangroves of the Ras Al Khor Wildlife Sanctuary (see here). Separated from the mainland by a canal that spans about 100 meters, this waterway is connected by two road bridges and one pedestrian bridge, offering an awe-inspiring journey towards Dubai Creek Tower (more details). Enjoying a coveted spot adjacent to the newly constructed Palace Hotel consisting of 121 luxurious rooms, which serves as an elegant boutique establishment anchoring the Palace Residences branded apartments along the promenade and providing a captivating view of Dubai Creek Tower.
Atlantis The Royal Residences in Palm Jumeirah
Welcome to Atlantis The Royal Residences, an extraordinary haven of elegance and opulence nestled within the magnificent Palm Jumeirah. Prepare to indulge in some of the most luxurious and sophisticated accommodations the world has to offer. With rooms, suites, and signature penthouses designed to immerse you in absolute comfort and luxury, this iconic resort stands 43 storeys high, offering infinite views of the Arabian Sea and Palm Island.
The fusion of stylish interiors and expansive outdoor lounging areas creates an ambiance of unparalleled grandeur. From private balconies and expansive terraces to personal pools, every detail is meticulously crafted to make you feel as if you are sitting amongst the clouds. As a guest, you will have the privilege of soaking in the sun and feeling the gentle ocean breeze on 2l, of private beach, stretching between Atlantis The Royal and its sister property, Atlantis, The Palm. Adding to the allure, the crown of Atlantis, The Royal features a mesmerizing 90-meter sky pool, allowing guests to enjoy an unforgettable sensory journey. Indulge in dreamlike rooms, savour delectable cuisine at 17 world-class restaurants, including five helmed by celebrity chefs, rejuvenate your senses at the sprawling 3,000 square meter wellness center, and marvel at the surreal lobby adorned with over 2,000 ephemeral jellyfish gliding through one of the world's largest jellyfish tanks. Atlantis The Royal Residences promises an unparalleled experience where luxury and sophistication know no bounds.
Dubai's beachfront properties showcase the city's commitment to excellence and its penchant for luxury. Whether it's the Mediterranean-inspired elegance of Palace Residences by Meeras or the grandeur of Atlantis The Royal Residences by Emaar, each property offers a unique blend of opulence, exclusivity, and natural beauty. These beachfront properties redefine coastal living, providing residents with unparalleled access to pristine beaches, breath-taking views, and a host of world-class amenities. Embodying the essence of luxury, these properties ensure that residents can immerse themselves in a lifestyle of utmost comfort and sophistication. To Know more about beachfront properties click here
Last Updated: May 26, 2023